Products Category
Products Tags
Fmuser Sites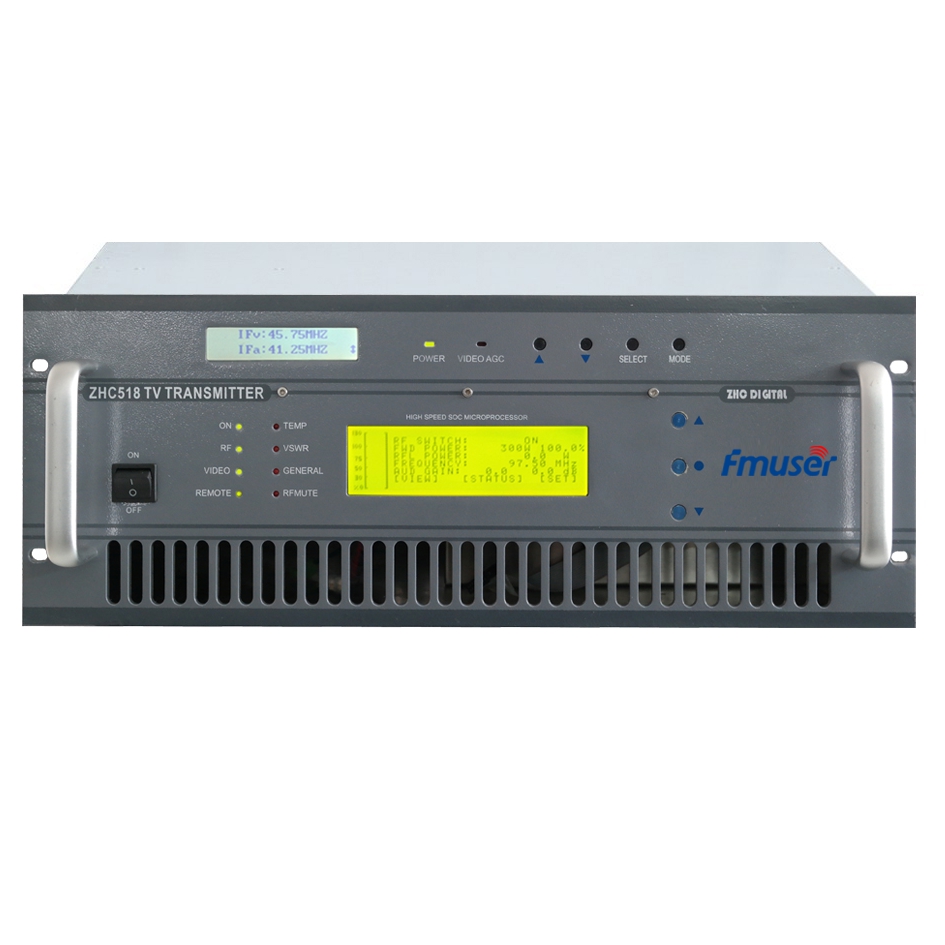 FMUSER CZH518A-200W 200Watt Analog TV Transmitter For TV Station 4U Rack
FMUSER CZH518A-200W 200Watt Analog TV Transmitter For TV Station 4U Rack Description: TV Transmitter UHF/VHF Power: 200W in a 4U height 19' rack Professinal designed for TV stations Big LCD displays all parameters Switched power supply High reliability Low price Overview: * This product is the all solid-state Single-channel TV Transmitter, it adopts professional TV exciter, and it can use the single/duel exciter configuration, switching automatically. * This transmitter has a variety of linear and non-linear pre-correction function, carrier frequency offset, and precision bias (with external precision reference source) function. * It can prefabricate and control the
Detail
FMUSER has upgraded panel design of all CZE series to FU series, stay tuned for further updates!

 
| | | | | | |
| --- | --- | --- | --- | --- | --- |
| Price(USD) | Qty(PCS) | Shipping(USD) | Total(USD) | Shipping Method | Payment |
| 4260 | 1 | 944 | 5204 | DHL | |


FMUSER CZH518A-200W 200Watt Analog TV Transmitter For TV Station 4U Rack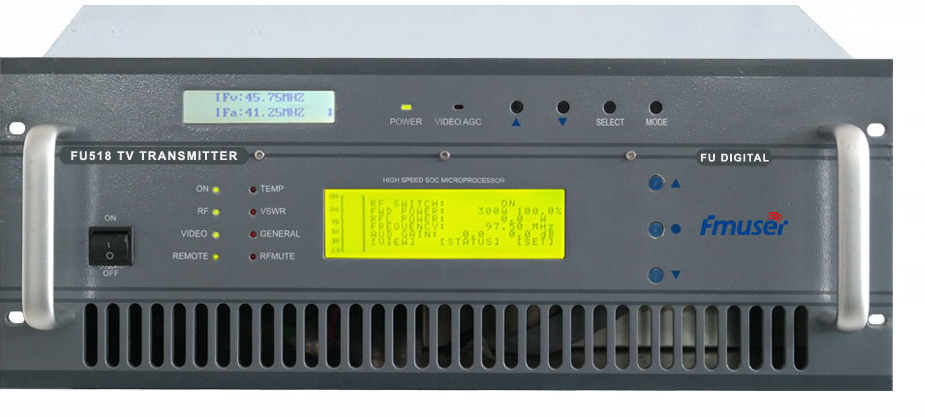 Description:
TV Transmitter UHF/VHF
Power: 200W in a 4U height 19' rack
Professinal designed for TV stations
Big LCD displays all parameters
Switched power supply
High reliability
Low price
Overview:
* This product is the all solid-state Single-channel TV Transmitter, it adopts professional TV exciter, and it can use the single/duel exciter configuration, switching automatically.
* This transmitter has a variety of linear and non-linear pre-correction function, carrier frequency offset, and precision bias (with external precision reference source) function.
* It can prefabricate and control the half-power output, and it has remote control telemetry interface.
* The power amplifier used LDMOS FET, the analog and digital are both compatible, and it used high-quality switch parallel power.
* The power amplifier and power supply are both used hot-plug devices.
* The power loss and standing wave of the one-time synthesis power combiner is small.
* The module of power amplifier display the working parameters in real-time.
* The whole machine has the protection of over-current, over temperature, over power and over-standing wave ratio.
* The master touch screen displays the working parameters of the whole machine and the module of power amplifier (PA) in real-time.
* The 200W transmitter is installed in one 19inch chassis; it's suitable for medium or small TV station.
Features:
* The whole machine is single-channel, image with audio together.
* The management and monitoring are intelligent and on network, it has the external PC interface.
* It has the technical data detection, monitoring systems and full-featured computer control software with auto-diagnostic function. All technical parameters can be read through the LCD display panel.
* Comprehensive protection measures can reduce the damage of equipments. This machine has protection about no video; VSWR is too large, overheating, over-stimulus, missing phase protection and lightning protection. The switch has protection about overvoltage, over current, under voltage, over temperature, short circuit and lightning protection.
* All power supplies are switching power supplies; high efficiency, excellent regulator range, strong adaptable from the change of the external voltage.
* It adopts modular design concept.
*Hot-pluggable design: power amplifier and switching power are supporting the Hot-plug, it's easy to debug and maintenance; improve the reliability.
*The fan is built-in the chassis, the transmitter has a compact structure and a beautiful shape.
Technical Specifications:
Overall performances:
1. Working frequency: UHF 13~48 Channel arbitrary choice
2. Output power: 200W (Synchronous)
3. Output impedance: 50Ω
4. Inter-modulation distortion: ≤-50dB
5. Useless transmission: In adjacent channel ≤-40dB
Out adjacent channel ≤-60dB
6. RF output interface: N
7. Power supply: Single-phase 220V
8. Shape size:

540mm*670mm*260mm
9. Weight: 45KG
Image Performance:
1. Video frequency input level: 1VP-P positive polarity
2. Video frequency input impedance: 75Ω
3. DG: ±8%
4. DP: ±7°
5. Luminance nonlinear: ≤12%
Sound performance:
1. Audio input level: 0dBm±6dB
2. Audio input impedance: 10KΩ (imbalance)
3. Maximum frequency deviation: ±50KHz
4. Harmonic distortion: ≤1%
5. Signal-to -clutter: ≥60dB
Package Include:
1*CZH518F-200W 200W TV transmitter
FMUSER has upgraded panel design of all CZE series to FU series, stay tuned for further updates! 
| | | | | | |
| --- | --- | --- | --- | --- | --- |
| Price(USD) | Qty(PCS) | Shipping(USD) | Total(USD) | Shipping Method | Payment |
| 4260 | 1 | 944 | 5204 | DHL | |
Leave a message 
Message List