Products Category
Products Tags
Fmuser Sites
FUTV4656 DVB-T/DVB-C(QAM)/ATSC 8VSB MPEG-4 AVC/H.264 HD Encoder Modulator (Tuner,HDM,YPbPr/CVBS/S-Video in; RF out) with USB Record/Save/Playback/Upgrade for Home Use
FUTV4656 DVB-T/DVB-C(QAM)/ATSC 8VSB MPEG-4 AVC/H.264 HD Encoder Modulator (Tuner, HD, YPbPr/CVBS/S-Video in; RF out) with USB Record/Save/Playback/Upgrade for Home Use Input:Tuner, CVBS, YPbPr, S-Video, HD Output:QAM, DVB-T, ATSC-T, ISDB-T, DTMB, DVB-C Inner Function:USB Overview: FUTV4656 series encoder & modulator is FMUSER's consumer electronics which allow audio/video signal input in TV distributions with applications in home entertainment, surveillance control, hotel Digital Signage, shops etc. It is an all-in-one device integrating MPEG-4 AVC/H.264 encoding and modulating to convert audio/video signals into DVB-T/DVB-C
Detail

| | | | | | |
| --- | --- | --- | --- | --- | --- |
| Price(USD) | Qty(PCS) | Shipping(USD) | Total(USD) | Shipping Method | Payment |
| 1109 | 1 | 0 | 1109 | DHL | |
FUTV4656 DVB-T/DVB-C(QAM)/ATSC 8VSB MPEG-4 AVC/H.264 HD Encoder Modulator (Tuner, HD, YPbPr/CVBS/S-Video in; RF out) with USB Record/Save/Playback/Upgrade for Home Use
Input:Tuner, CVBS, YPbPr, S-Video, HD
Output:QAM, DVB-T, ATSC-T, ISDB-T, DTMB, DVB-C
Inner Function:USB
Overview:
FUTV4656 series encoder & modulator is FMUSER's consumer electronics which allow audio/video signal input in TV distributions with applications in home entertainment, surveillance control, hotel Digital Signage, shops etc.
It is an all-in-one device integrating MPEG-4 AVC/H.264 encoding and modulating to convert audio/video signals into DVB-T/DVB-C/ATSC RF out.
The signals source could be from satellite receivers, closed-circuit television cameras, Blue-ray players, and antenna etc. its output signal is to be received by a DVB-T/DVB-C/ATSC standard TV, DVB-T/DVB-C/ATSC STB etc.
Technical Specifications:
Encoding Section

HD

Video

Encoding

MPEG-4 AVC/H.264

Interface

HD*1

Resolution

1920*1080_60P,1920*1080_50P;

1920*1080_60i, 1920*1080_50i;

1280*720_60p, 1280*720_50P

Bit rate

0.500~19.500 Mbps

Audio

Encoding

MPEG1 Layer II, (MPEG2-AAC, MPEG4-AAC available )

Sample rate

48KHz

Bit rate

64, 96,128, 192, 256, 320, 384kbps

YPbPr/CVBS/S-Video (with an adapter to VGA)

Video

Encoding

MPEG-4 AVC/H.264

Interface

CVBS *1, YPbPr*1, S-Video*1

Resolution

CVBS & S-Video:

720x576_50i (PAL); 720x480_60i (NTSC)

YPbPr:

1920*1080_60i, 1920*1080_50i;

1280*720_60p, 1280*720_50P

Bit rate

0.500~19.500 Mbps

Audio

Encoding

MPEG1 Layer II, (MPEG2-AAC, MPEG4-AAC available )

Interface

1*Stereo /mono

Sample rate

48KHz

Bit rate

64, 96,128, 192, 256, 320, 384kbps
Modulator Section

DVB-T




Standard

DVB-T COFDM

Bandwidth

6M, 7M, 8M

Constellation

QPSK, 16QAM, 64QAM,

Code rate

1/2, 2/3, 3/4, 5/6, 7/8.

Guard Interval

1/32, 1/16, 1/8, 1/4

Transmission Mode:

2K, 8K

MER

>=42dB

RF frequency

30~960MHz, 1KHz step

RF output level

-16~ -36dBm (71~91dbuV), 0.1db step

DVB-C




Standard

J.83A (DVB-C), J.83B, J.83C

MER

>=43dB

RF frequency

30~960MHz, 1KHz step

RF output level

-16~ -36 dBm (71~91dbuV), 0.1db step

Symbol rate

5000-9000 Ksps




J.83A

J.83B

J.83C

Constellation

16/32/64/128/256QAM

64/ 256 QAM

64/ 256 QAM

Bandwidth

8M

6M

6M

DTMB




Standard

GB20600-2006

FFT

1,3780,1+pilot

MER

>=42dB

FEC

0.4,0.6,0.8

Frame Mode

420,595,945,420var,945var

Interleaving

240,720

RF frequency

30~960MHz, 1KHz step

RF output level

-16~ -36 dBm (71~91dbuV), 0.1db step

Constellation

4QAM-NR,4QAM,16QAM, 32QAM,64QAM

ATSC




Standard

ATSC A/53

MER

>=42dB

RF frequency

30~960MHz, 1KHz step

RF output level

-16~ -36 dBm (71~91dbuV), 0.1db step

Constellation

8VSB

ISDB-T




Standard

ARIB STD-B31

Bandwidth

6M

Constellation

DQPSK,QPSK, 16QAM, 64QAM

Guard Interval

1/32, 1/16, 1/8, 1/4

Transmission Mode

2K, 4K, 8K

MER

>=42dB

RF frequency

30~960MHz, 1KHz step

RF output level

-16~ -36 dBm (71~91dbuV), 0.1db step

System

Management

Local control: LCD + control buttons

Language

English

LCN Insertion

yes

Upgrade

JTAG

General

Power supply

DC 12V

Dimensions

153*110*50mm

Weight

< 1kg

Operation temperature

0~45C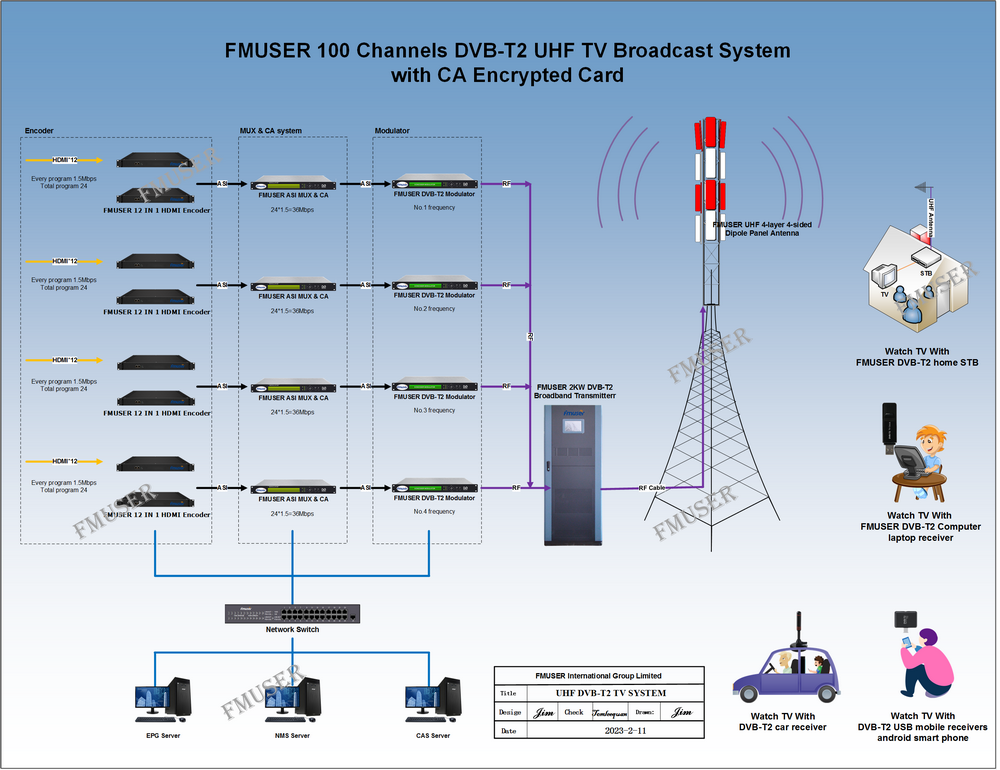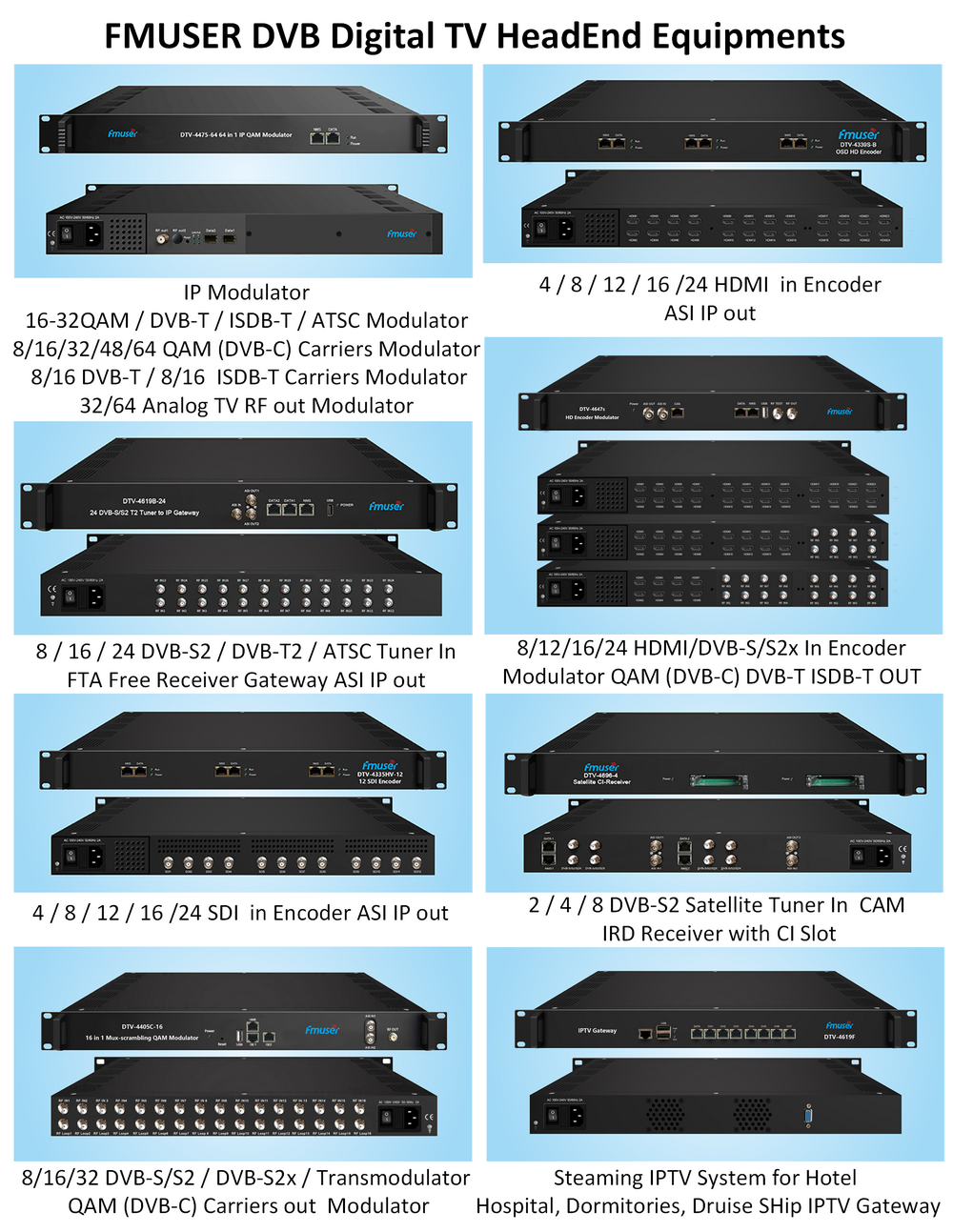 | | | | | | |
| --- | --- | --- | --- | --- | --- |
| Price(USD) | Qty(PCS) | Shipping(USD) | Total(USD) | Shipping Method | Payment |
| 1109 | 1 | 0 | 1109 | DHL | |
Leave a message 
Message List