Products Category
Products Tags
Fmuser Sites
CZH618F-5kw 5000W 5KW Professional FM broadcast transmitter Rack Mount AES/EBU wiith AGC for City Radio Station + 6 Bay FM-DV1 Dipole Antenna
CZH618F-5kw 5000W 5KW Professional FM broadcast transmitter Rack Mount AES/EBU wiith AGC for City Radio Station + 6 Bay FM-DV1 Dipole Antenna Description: This CZH618F-5KW 5KW FM transmitter is an innovative FM broadcast transmitter for radio stations,hot-plug amplifier module and double digital exciters(optional),automatically change.Output power is stable with AGC fuction. FM-DV1 Dipole Antenna Features: 1. Six units 1KW hotplug RF power modules.Total output power is extremely stable thanks to AGC(Automatic Gain Control). 2. Five units 2500VA hotplug switched power supply units are working in parallel. 3. 6-way High efficiency power combiner with patent technol
Detail
FMUSER has upgraded panel design of all CZE series to FU series, stay tuned for further updates!

 
| | | | | | |
| --- | --- | --- | --- | --- | --- |
| Price(USD) | Qty(PCS) | Shipping(USD) | Total(USD) | Shipping Method | Payment |
| 28125 | 1 | 0 | 28125 | | |


CZH618F-5kw 5000W 5KW Professional FM broadcast transmitter Rack Mount AES/EBU wiith AGC for City Radio Station
+ 6 Bay FM-DV1 Dipole Antenna
Description:
This CZH618F-5KW 5KW FM transmitter is an innovative FM broadcast transmitter for radio stations,hot-plug amplifier module and double digital exciters(optional),automatically change.Output power is stable with AGC fuction.
FM-DV1 Dipole Antenna

Features:
1. Six units 1KW hotplug RF power modules.Total output power is extremely stable thanks to AGC(Automatic Gain Control).
2. Five units 2500VA hotplug switched power supply units are working in parallel.
3. 6-way High efficiency power combiner with patent technology.
4. Two All-digital 10W exciters(DSP+DDS) with automatical changeover switch (optional).
5. Analog and digital(AES/EBU) audio signal input directly.
6. 8-inch Color LCD with touch panel displays all the parameters in real time.
7. Intelligent protect fucntions by centre control unit,like over Pf,over SWR,over Temp,Over V,Over I.
8. Real hot-plug structure,the modules can be repairing at non-stop condition.
9. RS232/RS485 Communication interface ready for remote system.
Technical Specifications:
1. Frequency Range: 87.0MHz~108 MHz
2. Frequency Setting step: 10KHz
3. Carrier Frequency precision: 200Hz
4. Residual Wave Radiation: 70dBc
5. Analog audio Input Impedance: 600Ω, Balance
AES/EBU digital audio input impedance: 110 Ohm, Balance
6. Separation: >50dB, 30Hz~15KHz
7. Audio Input Level: -10dBm~+10dBm, step 0.01dB
8.S/N: >75dB (1kHz, 100%modulation)
9. Audio Harmonic Distortion: <0.1%
10. Audio response: 0.1dB (10Hz~15KHz)
11. Output Load Impedance: 50Ω
12. Output Power: 0W~5KW
13. Pre-emphasis: 0μS, 50μS, 75μS
14. Deviation: ±75kHz
15. Pilot Frequency: 19 kHz; 0.5Hz
16. RF Output Interface: 1+5/8'
17. Antenna Gain: 9.3dB
18.Size: Width(720mm), Height(1950mm),Depth(1200mm)
19. Weight: 350KG
Package Include:
1* CZH618F-5KW 5KW FM Transmitter
6* FM-DV1 Dipole Antenna

Attention:
The shipping cost is not calculated yet, please consult us the freight before placing order.
FMUSER has upgraded panel design of all CZE series to FU series, stay tuned for further updates!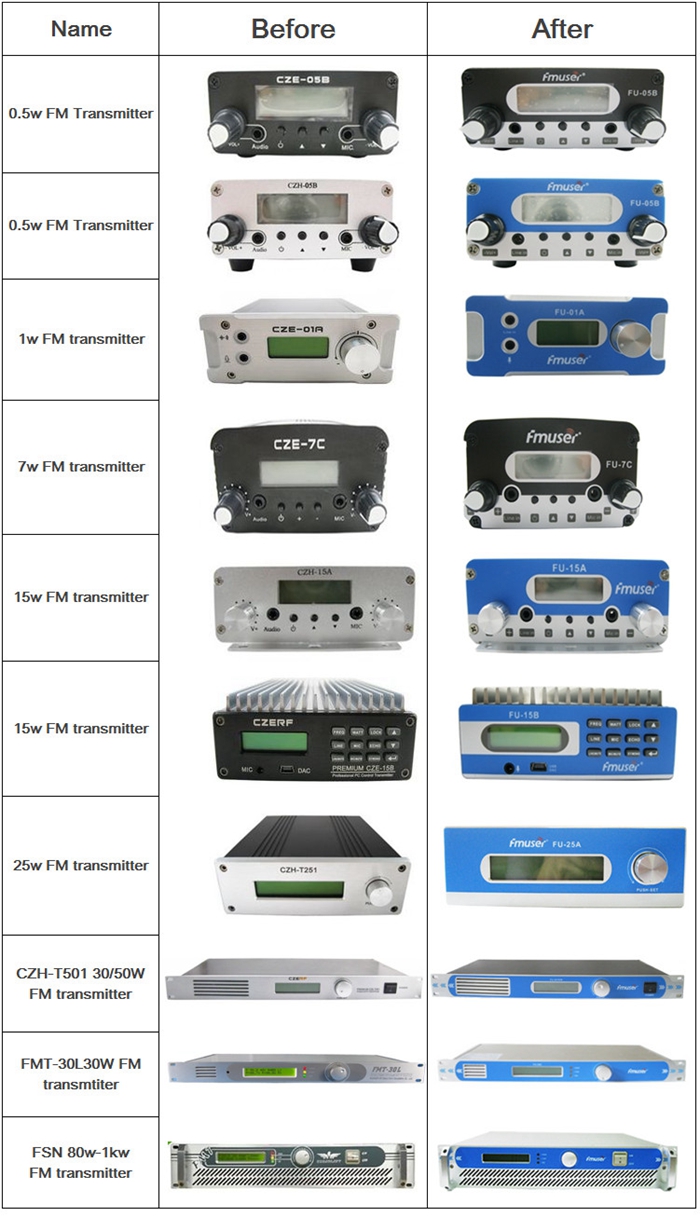 | | | | | | |
| --- | --- | --- | --- | --- | --- |
| Price(USD) | Qty(PCS) | Shipping(USD) | Total(USD) | Shipping Method | Payment |
| 28125 | 1 | 0 | 28125 | | |
Leave a message 
Message List