Products Category
Products Tags
Fmuser Sites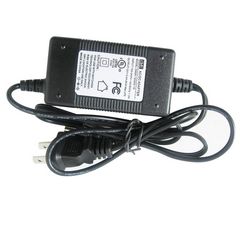 FMUSER 12V 2A high quality DC Power supply Power adapter FCC UL certificate for 0.5w 1w 5w 7w FM transmitter
New! FMUSER 12V 2A high quality DC Power supply Power adapter FCC UL certificate for 0.5w 1w 5w 7w FM transmitter This is the power supply we directly get from the factory,we can provide factory price and warranty. Technical Specifications: 1. Input characteristics: 1). Input Voltage: *Nominal Voltage: 100-240Vac *Variation Range: 90-264Vac 2). Inpute Frequency: *Nominal Frequency: 50-60Hz *Variation Frequency: 47-63Hz 3). Input Current 1.0Arms max At any input voltage and rated, DC output rated load. 4). Inrush Current: 30Amps Max. Cold start at 240Vac input, with rated load and 25 celsius degrees ambient. 5). AC leakage Current: 0.25mA Max At 240Vac Input 2.Outp
Detail
FMUSER has upgraded panel design of all CZE series to FU series, stay tuned for further updates!

 
| | | | | | |
| --- | --- | --- | --- | --- | --- |
| Price(USD) | Qty(PCS) | Shipping(USD) | Total(USD) | Shipping Method | Payment |
| 13.99 | 1 | 0 | 13.99 | airmail shipping | |


New! FMUSER 12V 2A high quality DC Power supply Power adapter FCC UL certificate for 0.5w 1w 5w 7w FM transmitter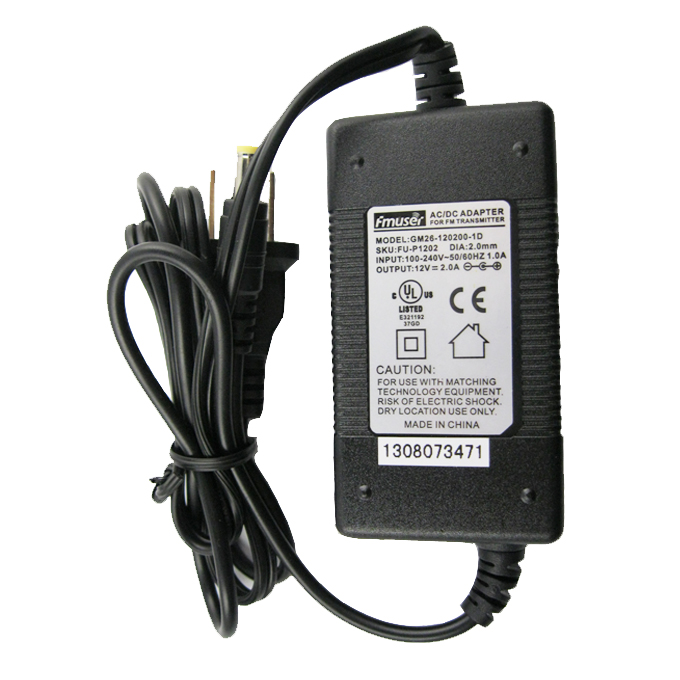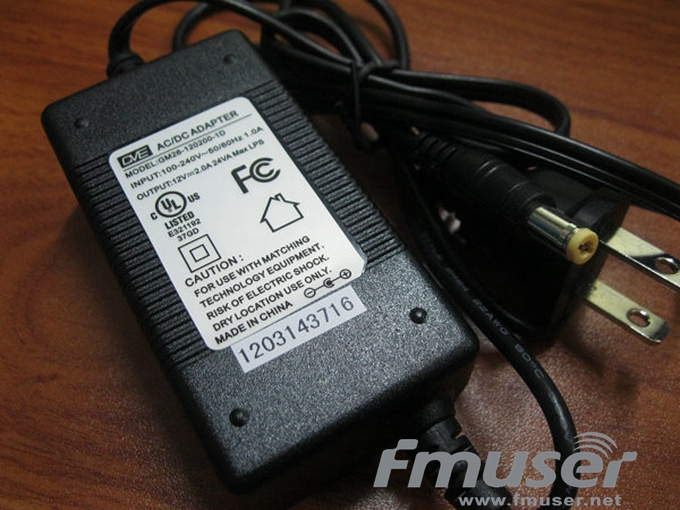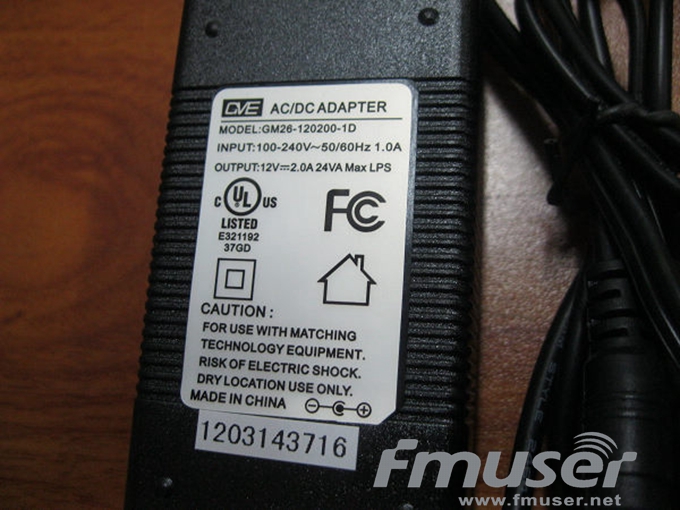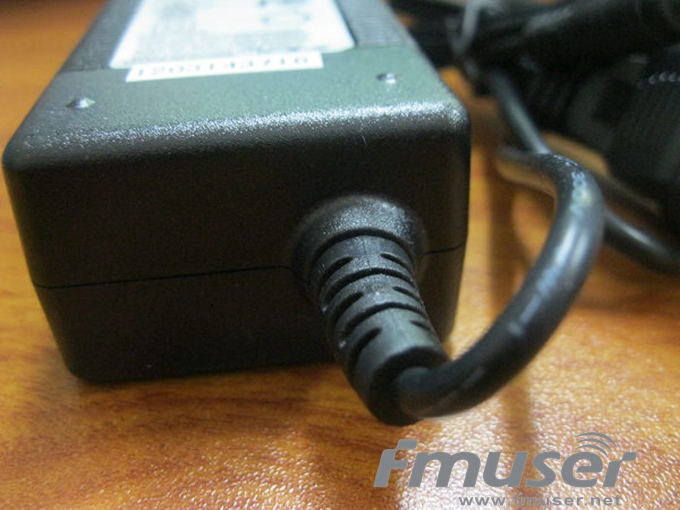 This is the power supply we directly get from the factory,we can provide factory price and warranty.
Technical Specifications:
1. Input characteristics:
1). Input Voltage:
*Nominal Voltage: 100-240Vac
*Variation Range: 90-264Vac
2). Inpute Frequency:
*Nominal Frequency: 50-60Hz
*Variation Frequency: 47-63Hz
3). Input Current
1.0Arms max At any input voltage and rated, DC output rated load.
4). Inrush Current:
30Amps Max. Cold start at 240Vac input, with rated load and 25 celsius degrees ambient.
5). AC leakage Current: 0.25mA Max At 240Vac Input
2.Output Characteristics:
1) Power output:24.0W( DC12V, 0A Min.Load, 2.0A Max. Load, >2.5A peak)
2) Combined load/Kube Regulatioin:
DC12V Voltage, +-3% Line regulation, +-5% Load regulation.
3).Ripple and Noise:
The ripple and noise are as follows when measure with Max.Bandwidth of 20MHz and Parallel 47uf/0.1uf, crossed connected at testing point.
Voltage Ripple and Noise(Max)+12.0V DC 120mVp-p
4) Turn On Delay Time: 2second Max.At 115Vac input and output Max.Load
5) Rise Time: 40mS Max. At 115Vac input and output Max.Load.
6) Hold up time: 5mS Min.At 115Vac input and output Max.Load.
7) Efficiency: 80% Min.At 100Vac input and output Max.load
80% Min.At 240Vac input and output Max.Load
8)Overshoot: 15% Max.When power supply at turn on or turn off.
3.Protection requirement:
1) short circuit protection
2) Over current protection
3) Over voltage protection
4. Environment requirement:
1) Operation Temperature: 0~-40 celsius degrees,full load normal operation
2) Storeage Temperature: -20~85 celsius degrees.
3) Relative humidity:
5%(0 celsius degrees)~90%(celsius degrees), 72Hrs, Full load normal operating.
4) Vibration:
* Operating: IEC721-3-3 3M3
5-9hz, A=1.5mm
*Transportation: IEC 721-3-2 2M2
9-200Hz,Acceleration=5m/s2
200-500Hz, Acceleratoin=15m/s2
* Axes, 10cycles per axis:
No permanent damage may occur during testing.The product has to restore its original situation after power off/on.
* Dropping: 1 corner, 3 edges, and 6 surfaces.
5. Certificates:UL.FCC
6. Package size:145*72*32mm(L*W*H)
7. Input connector: 2*0.5m SRF8
8. DC cable:AWM2464 22AWG*2C,VW1,80 celsius degrees, FT1,300V, with word on the cord, length: 0.5m. Without magnetic ring, DC plug 5.5*2.1*10mm, in+/out-
package Include:
1* FMUSER 12V2A Power supply
FMUSER has upgraded panel design of all CZE series to FU series, stay tuned for further updates!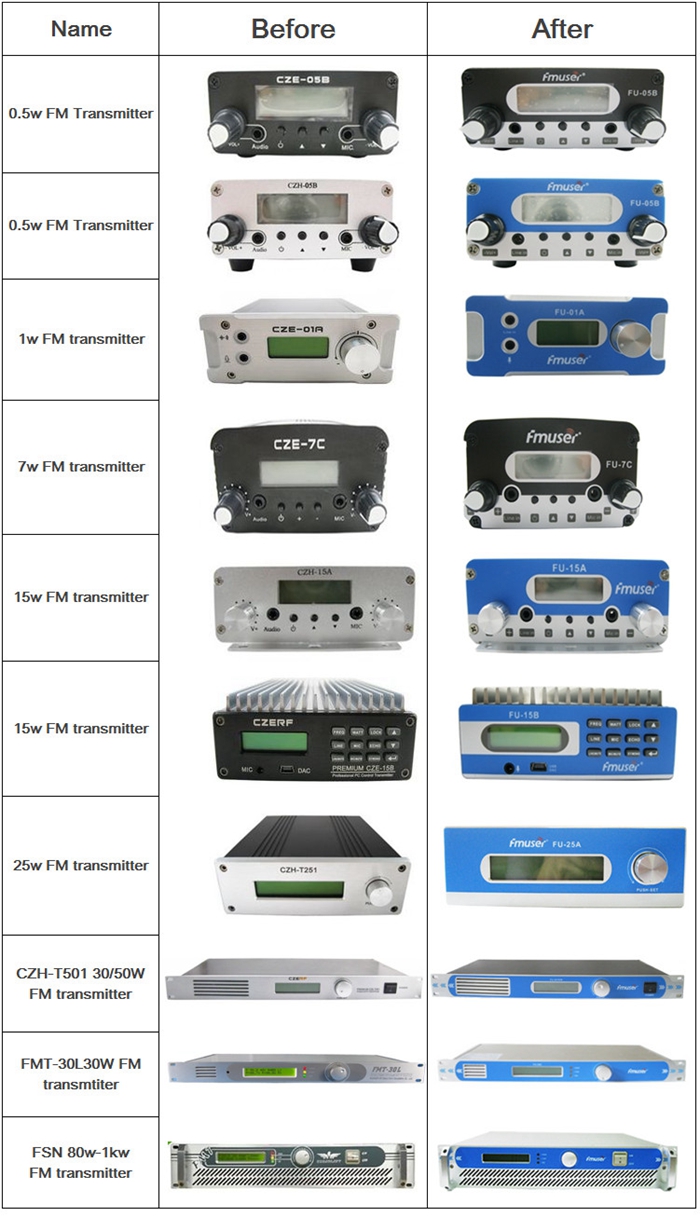 | | | | | | |
| --- | --- | --- | --- | --- | --- |
| Price(USD) | Qty(PCS) | Shipping(USD) | Total(USD) | Shipping Method | Payment |
| 13.99 | 1 | 0 | 13.99 | airmail shipping | |
Leave a message 
Message List