Products Category
Products Tags
Fmuser Sites
Shure P3T-G20
Date:2020/1/13 18:03:52 Hits: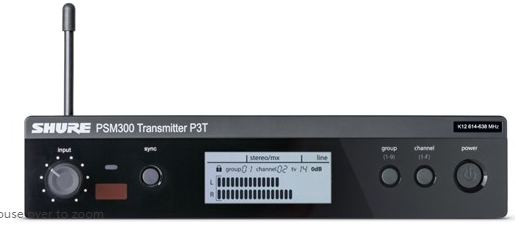 PSM300 Wireless Transmitter - 488-512MHzBSW PART: P3T-G20
Shure P3T-G20Shure P3T-G20
Wireless transmitter housed in a rugged all-metal chassis for both entry-level and professional-tier PSM300 systems.
Dependable wireless transmission and 24-bit digital audio combine to deliver a superior personal monitoring mix for every performance. Send 2 channels of audio to a bodypack receiver up to 300 feet (90 m) away, with patented Audio Reference Companding to ensure transparent sound quality with no artifacts or dropouts.
Easy to set up and operate, the Shure PSM 300 Stereo Personal Monitor System puts total freedom within reach of musicians at every level. Customizable two-channel mix and volume lets you hear every note in detailed, 24-bit digital audio from anywhere on the stage. So you can dedicate yourself to the performance. Never bound by wires or wedges.
Main Features:
* Transmitter sends a stereo or mono mix wirelessly to performers onstage
* One-touch IR sync on user-friendly front-panel controls instantly links transmitter to receiver
* Rear-panel *" (6.3 mm) TRS balanced inputs and loop outputs provide versatile connectivity to audio sources and other P3T units
* Up to 30 mW output power (regionally dependent)
* High-contrast LCD screen with left / right audio output meters
* Selectable line / aux level


Specifications:
* RF Output Power 10, 20, 30 mW
* RF Output Impedance 50 Ω (typical)
* Net Weight 783 g (27.6oz.)
* Dimensions (H × W × D) 43 × 198 × 172 mm (1.7 × 7.8 × 6.8 in.)
* Power Requirements 12–15 V DC, 260 mA maximum
Leave a message
Message List