Products Category
Products Tags
Fmuser Sites
FMUSER FU-05B 0.5w FM radio transmitter Indoor Rubber Antenna Package
FMUSER FU-05B 0.5W FM radio transmitter antenna kit Description: Fmuser FM transmitter is a professional grade low power FM transmitter operating in the commercial FM band (76 – 108MHz). It is intended for indoor (churches, theaters, cinemas, auditoriums, conference halls , Hostels, Commercial Plaza ,Shopping Center,Government Building, Sports Center, Fitness Center,Conference) or outdoor (business parkings, tourist attractions, talking signs, Rural radio, Outdoor Advertising ,Outdoor Activities ,Orienteering) short range broadcasting in a variety of applications:? hearing assistance, translation, information, sound re-enforc
Detail
FMUSER has upgraded panel design of all CZE series to FU series, stay tuned for further updates!

 
| | | | | | |
| --- | --- | --- | --- | --- | --- |
| Price(USD) | Qty(PCS) | Shipping(USD) | Total(USD) | Shipping Method | Payment |
| 60 | 1 | 12 | 72 | Airmail Shipping | |


FMUSER FU-05B 0.5W FM radio transmitter antenna kit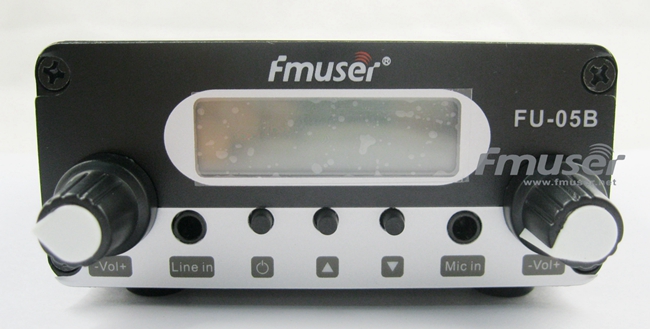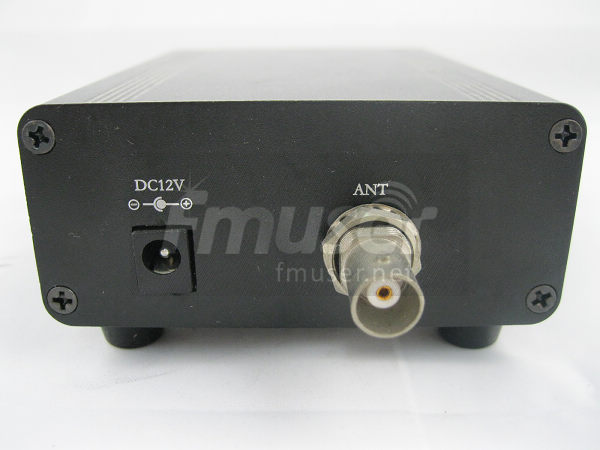 Description:
Fmuser FM transmitter is a professional grade low power FM transmitter operating in the commercial FM band (76 – 108MHz).
It is intended for indoor (churches, theaters, cinemas, auditoriums, conference halls , Hostels, Commercial Plaza ,Shopping Center,Government Building, Sports Center, Fitness Center,Conference) or outdoor (business parkings, tourist attractions, talking signs, Rural radio, Outdoor Advertising ,Outdoor Activities ,Orienteering) short range broadcasting in a variety of applications:? hearing assistance, translation, information, sound re-enforcement.
Its outstanding RF and audio performances, ruggedness, reliability and versatility make FMuser FM transmitter stand out from conventional hearing assistance systems.
Features:
*User programmable frequency
*Easily choose your frequency LCD and buttons,No manual tuning required
*Japan Phase Lock Loop (PLL) Technology
*Works with standard FM receivers
*Coverage of 700 feet or more with portable FM receiver, 2500 feet or more with car radio
*Hi-Fi Steroe audio quality
*Adjustable input level with over modulation indicator
*Stereo 1/4-F audio input connector
*Choice of GP antenna or telescopic antenna
*FCC part 15 and Industry Canada Bets-1, RSS-210 and RSS-123 approved
*Temperature protect
*Standing Wave Protect
*1 year warranty

Technical Specifications:
*DC input:2.1mm
*input voltage:DC12V
*operating current:150mA
*Frequency:76~108MHz
*Modulation:WFM
*Frequency Step:0.1MHz
*Frequency stabilization method:PLL
*deviation:±75KHz
*RF Output:0.5W
*Output Impedance:50Ω
*Harmonic radiation:-60db
*Frequency Response:50~15000Hz
*Distortion:0.2%
*Pre-emphasis delay:50us
*Stereo Separation:40db
*Input level:-15dbV
*Input impedance:50KΩ
*SNR:65db
*Match the microphone:ECM mic
*Size:113*88*38mm
*Color:Black
*Weight:0.27kg
*Working temperature:0~55

Front and Back panel description:
1. AUDIO INPUT LEVEL: controls the audio input level (Tunner)
2. AUDIO INPUT: connect your audio source here (Input level:-15dbv ; Connector:3.5mm)
3. DC POWER SWITCH: turns the transmitter ON or OFF
4. FREQUENCY UP: transmitting frequency UP
5. FREQUENCY DOWN: transmitting frequency DOWN
6. MIC INPUT: connect your Electret condenser microphone here (Connector:3.5mm)
7. MIC INPUT LEVEL: controls the MIC input level (Tunner)
8. DC INPUT: Connect the DC adaptor (supplied) here (12V 1A,Core 2.1mm)
9. TRANSMITTING Connector:Connect the GP antenna OR telescopic antenna (50Ω BNC)
10. FREQUENCY DISPLAY: Displays the programmed transmitting frequency (76.0 – 108.0 MHz)
Package Include:
1 × FU-05B Black 0.5w FM Transmitter

1× Power supply
1× Short antenna

1× Audio cable
Warm Tip:
If you want to use the microphone port of this transmiter, please use a microphone with the 3.5mm 3 pin STEREO type connector
FMUSER has upgraded panel design of all CZE series to FU series, stay tuned for further updates!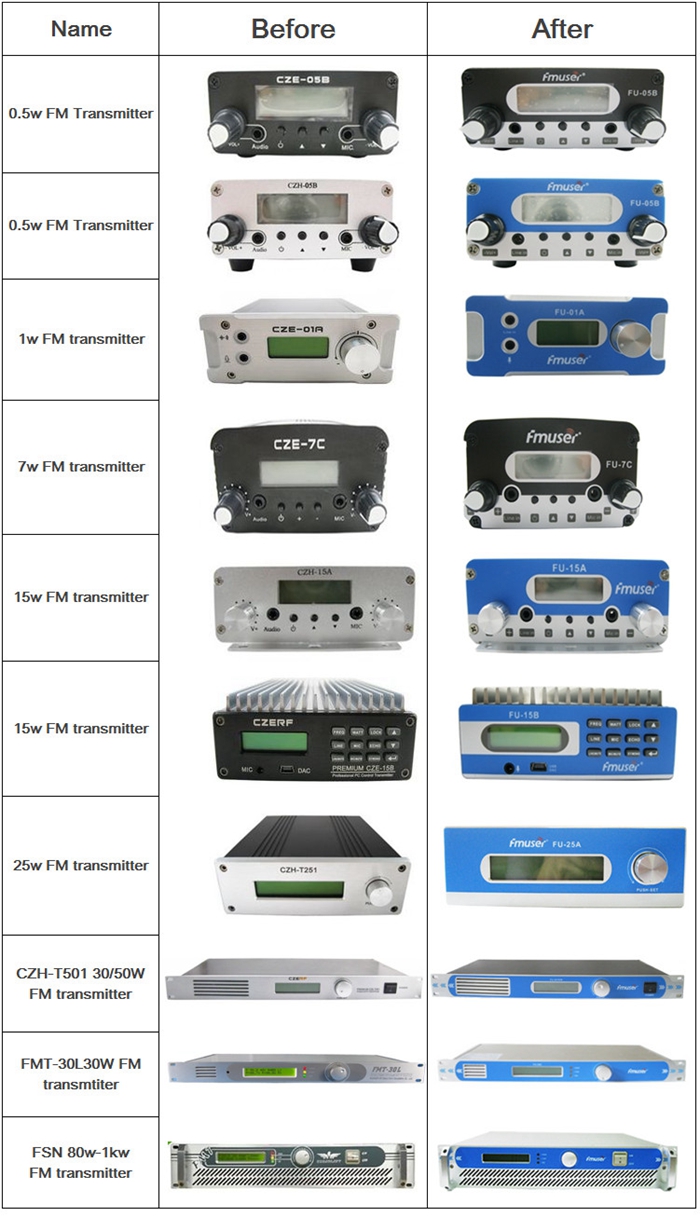 | | | | | | |
| --- | --- | --- | --- | --- | --- |
| Price(USD) | Qty(PCS) | Shipping(USD) | Total(USD) | Shipping Method | Payment |
| 60 | 1 | 12 | 72 | Airmail Shipping | |
Leave a message 
Message List