Products Category
Products Tags
Fmuser Sites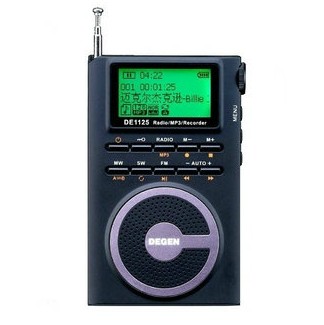 DEGEN DE1125 FM/MW/SW DSP Radio/4GMP3/Recorder
DEGEN DE1125 FM/MW/SW DSP Radio/4GMP3/Recorder Accessories DG1125 Specification: *FM :87.0-108.00MHz or 64.0-108.00MHz *MW :522-1710KHz *SW :2.30-23.00MHz *225 Memory Presets *Memory Presets:100 for FM + 25 for MW + 100 for SW *Noise Limit Sensitvity: FM> 5uV MW > 2.5mv/m SW > 50uV *Signal Selection > 40dB *Five tuning methods:(Auto – Scan / Manual Frequency Digital Tuning and ATS (Auto Tuning Storage)) *FM TV audio / campus radio *Sleep Time function (05 – 90 minutes) *Alarm function (turn on radio / play the MP3 file / record file) *Built-in MIC for the voice recording *Alarm Clock Function *Support MP3 and WMA Decode *Support A-B repeat funtion,and 3 cycle play modes selectable. *Thr
Detail
FMUSER has upgraded panel design of all CZE series to FU series, stay tuned for further updates!

 
| | | | | | |
| --- | --- | --- | --- | --- | --- |
| Price(USD) | Qty(PCS) | Shipping(USD) | Total(USD) | Shipping Method | Payment |
| 65 | 1 | 15 | 80 | Airmail Shipping | |
DEGEN DE1125 FM/MW/SW DSP Radio/4GMP3/Recorder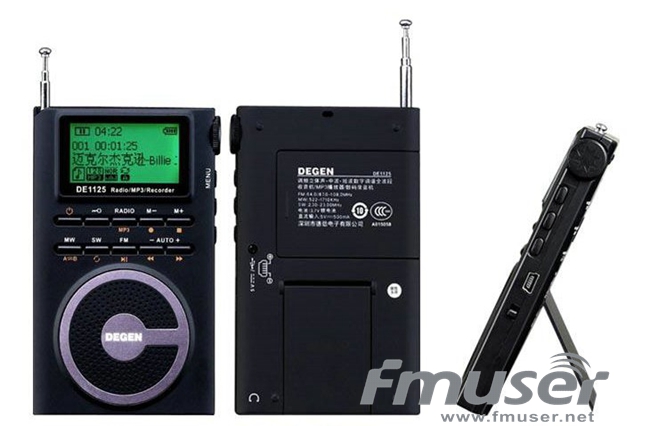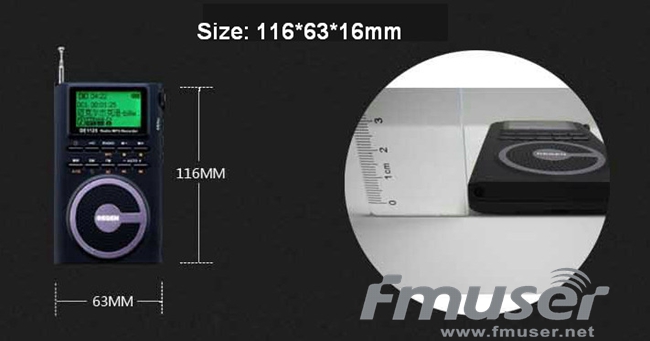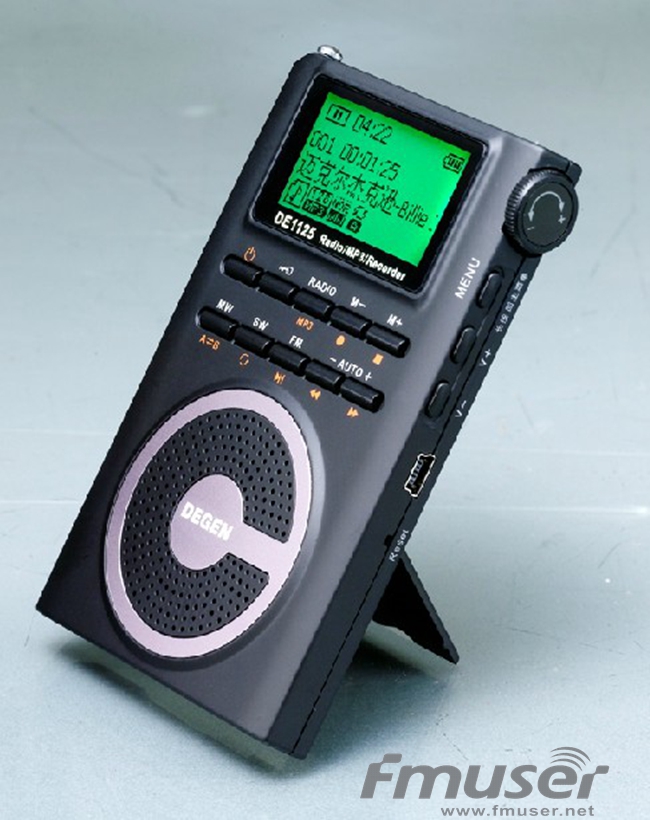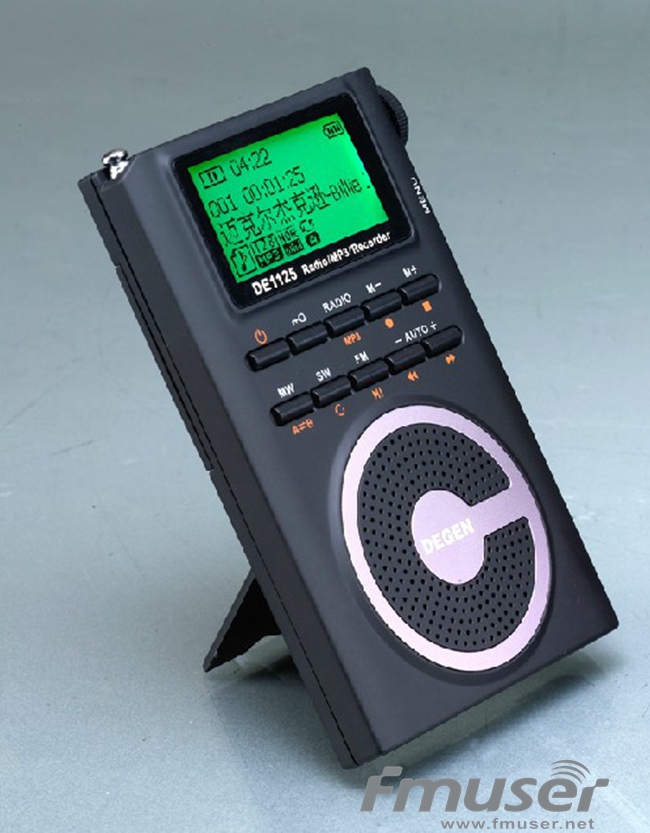 Accessories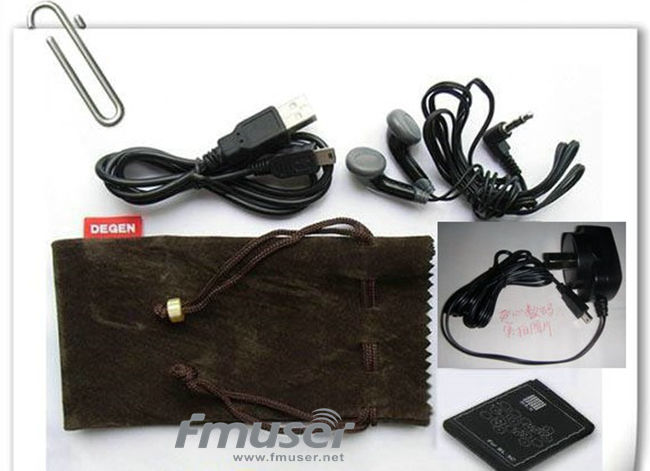 DG1125 Specification:
*FM :87.0-108.00MHz or 64.0-108.00MHz
*MW :522-1710KHz
*SW :2.30-23.00MHz
*225 Memory Presets
*Memory Presets:100 for FM + 25 for MW + 100 for SW
*Noise Limit Sensitvity: FM> 5uV
MW > 2.5mv/m
SW > 50uV
*Signal Selection > 40dB
*Five tuning methods:(Auto – Scan / Manual Frequency Digital Tuning and ATS (Auto Tuning Storage))
*FM TV audio / campus radio
*Sleep Time function (05 – 90 minutes)
*Alarm function (turn on radio / play the MP3 file / record file)
*Built-in MIC for the voice recording
*Alarm Clock Function
*Support MP3 and WMA Decode
*Support A-B repeat funtion,and 3 cycle play modes selectable.
*Three kinds of loop mode
*Build-in FLASH
*Key Lock function
*USB 2.0 Jack (High Speed)
*Intelligent charging, can be connected to the computer charge
*Battery Power Levels Display,auto powr off when lack of power.
*LED Backlight
*Radio signal strength indicator
*Digital volume control with maximum 31 sound Levels
*Using one lithium battery-powered
*Unit size:109.5*67*15mm
*Weight(including lithium battery):About 112.5g


MP3/Digital Audio Specification:
Memory: 4G
Recording format: WAV/MP3
Maximum recording time: About 215 hours(MP3 format 4G)
Other Specification:
Maximum output power of headset:1mW
Communications standards: USB2.0(hight speed)
Information flow rate:MP3:16-320Kbps WMA:8-384Kbps
Maximum output power of Speaker: About 250mW
Maximum current consumption: About 120mA
Power supply:
lithium battery: 3.7V 850mAHBL-5CLi-lon Battery
power supply:5V
Lithium Battery PlayTime (Volume 22 pm):
MP3 play time:about 8 hours
Radio Play Time:about 8 hours


Package include:
1 X DG1125 4G radio
1 X Suede fabric case
1 X Stereo earphones
1 X USB cable
1 X Charger
1 X lithium battery
1 X English manual

FMUSER has upgraded panel design of all CZE series to FU series, stay tuned for further updates!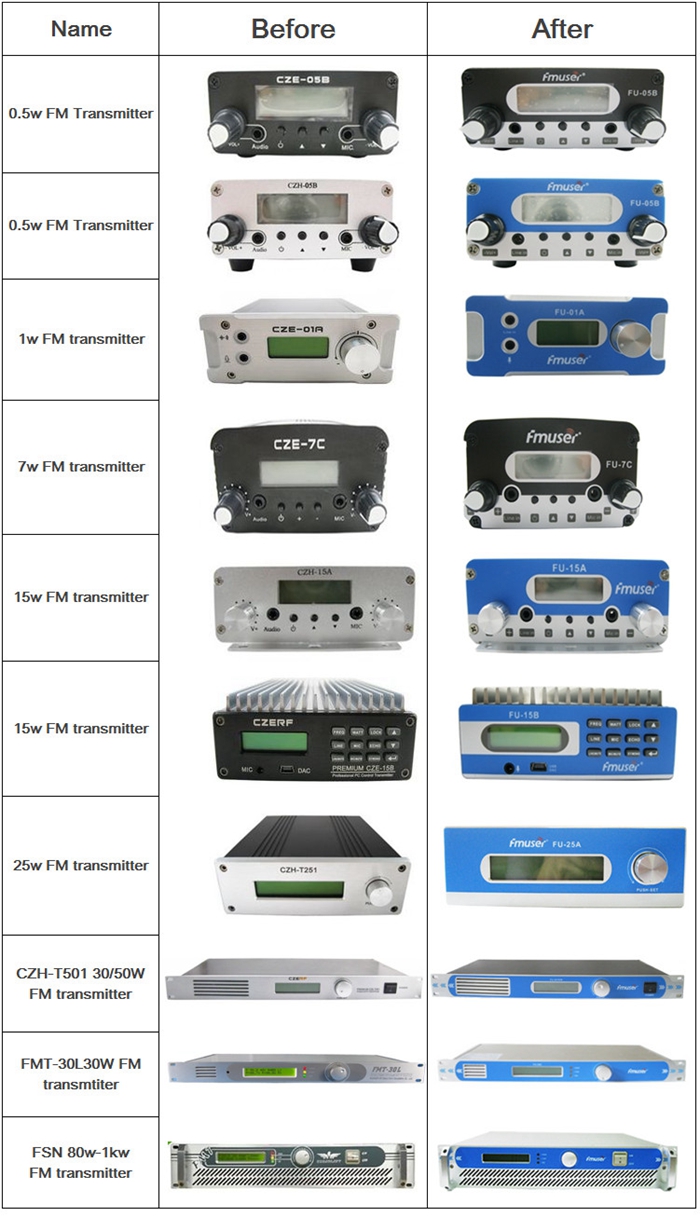 | | | | | | |
| --- | --- | --- | --- | --- | --- |
| Price(USD) | Qty(PCS) | Shipping(USD) | Total(USD) | Shipping Method | Payment |
| 65 | 1 | 15 | 80 | Airmail Shipping | |
Leave a message 
Message List