Products Category
Products Tags
Fmuser Sites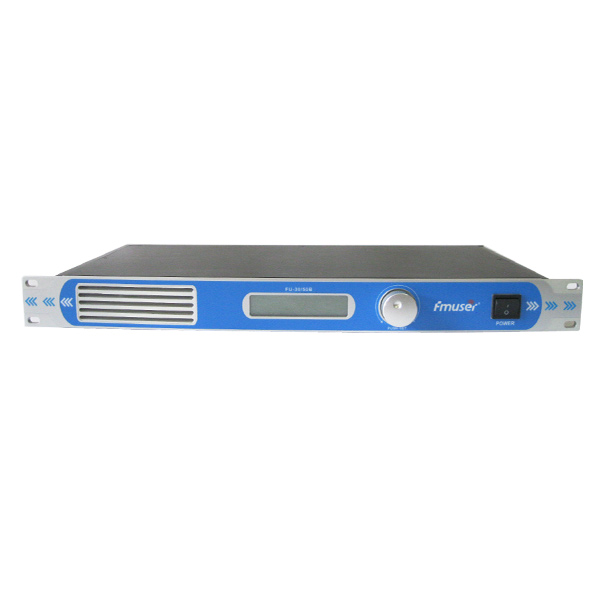 FMUSER FU-30/50B 30W FM Transmitter FM Exciter 0-30w Power Adjustable FM Broadcast Radio Transmitter RDS Port Clear Sound Quality 6.5mm MIC Port CZH-T501 CZE-T501
FMUSER FU-30/50B 30W FM Transmitter FM Exciter 0-30w Power Adjustable FM Broadcast Radio Transmitter RDS Port Clear Sound Quality 6.5mm MIC Port This 30w FM transmitter is upgrade version for previous PREMIUM FSN-301 30w FM transmitter. It is easier in operation, one button control for all functions. It has VSWR protection, temperature protection, RDS port, electronic volume adjusting,equipped with low pass filters. It's applicable in many places, such as stadium, county radio station, community radio station, motel, public square,church, theater and so on. Application Area Examples: Outstanding Features: *0~30W power adjustable *Dual reverb microphone input port *External encoder input (for external SCA or RDS
Detail
FMUSER has upgraded panel design of all CZE series to FU series, stay tuned for further updates!

 
| | | | | | |
| --- | --- | --- | --- | --- | --- |
| Price(USD) | Qty(PCS) | Shipping(USD) | Total(USD) | Shipping Method | Payment |
| 525 | 1 | 40 | 565 | DHL | |


FMUSER FU-30/50B 30W FM Transmitter FM Exciter 0-30w Power Adjustable FM Broadcast Radio Transmitter RDS Port Clear Sound Quality 6.5mm MIC Port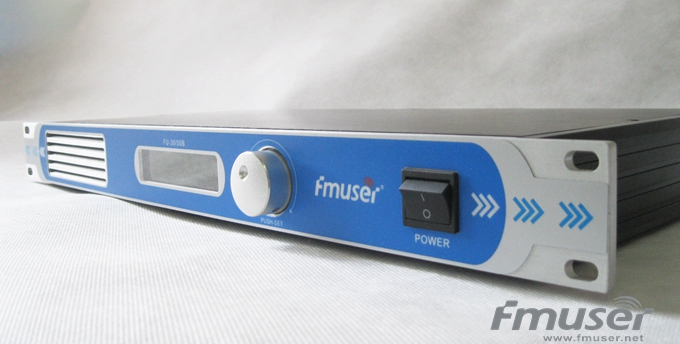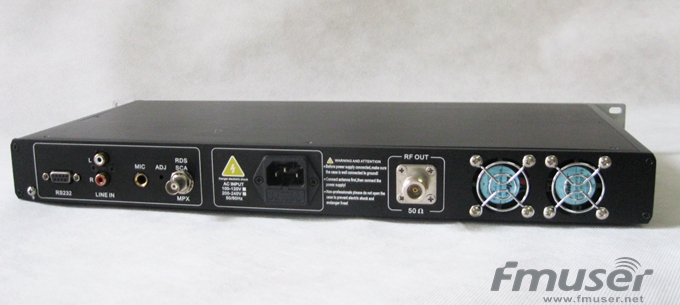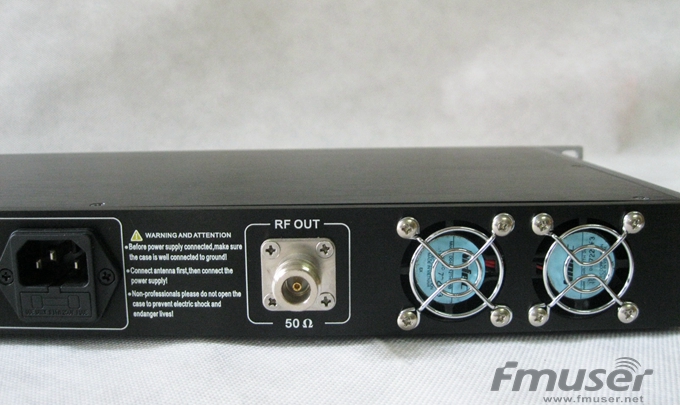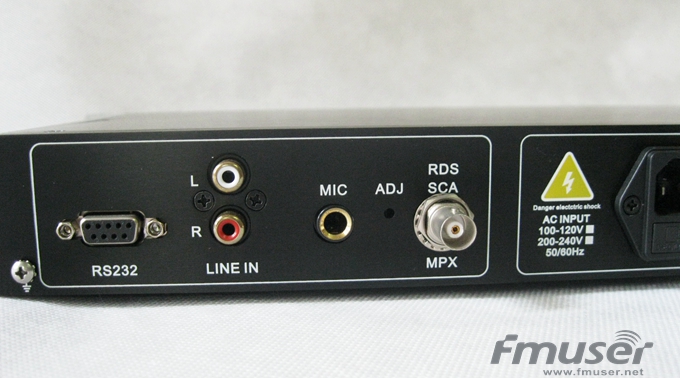 This 30w FM transmitter is upgrade version for previous PREMIUM FSN-301 30w FM transmitter. It is easier in operation, one button control for all functions. It has VSWR protection, temperature protection, RDS port, electronic volume adjusting,equipped with low pass filters. It's applicable in many places, such as stadium, county radio station, community radio station, motel, public square,church, theater and so on.
Application Area Examples: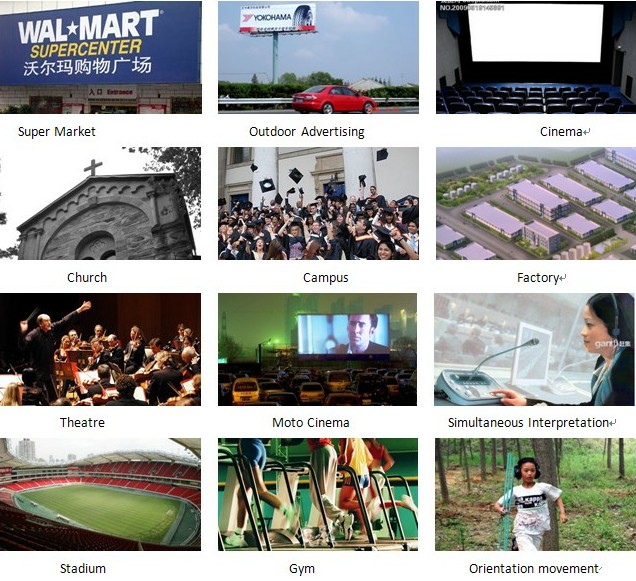 Outstanding Features:
*0~30W power adjustable
*Dual reverb microphone input port
*External encoder input (for external SCA or RDS encoder)
*VSWR protection, and can set the start value of the standing wave protection.
*Over-temperature protection, can set the start value of over temperature protection.
*Controllable fan forced cooling system, ensure stability and also increase the working life of the fan
*Automatic volume control function. Input volume can be detected and adjusted automatically to ensure the best modulation.
Technical Specification:
* Power supply:200~240V AC /50/60Hz(Can be changed to 100~120V AC by switching inside)
* Frequency range: 87 ~ 108MHz
* Frequency Step value: 100kHz
* Frequency Stabilization mode: PLL Frequency Synthesizer PLL
* Working mode: continuous work
* Distortioin: 0.2%
* Stereo Separation:45dB
* Audio frequency response: 50~15KHz (3db)
* Audio distortion: <2%
* Output Impedance: 50ohm
* Spurious and harmonic radiation:-60db
* RF output: 0.5 ~30W adjustable power, step 0.1W
* Tempearture Protection
* SWR protection
* Reference distance: 5Km-10Km (open land)
* Line-in: RCA base
* Mic Input: 6.5mm port (Dynamic circle microphone)
Operation Attentions:
1. Make sure the antenna or the Load can be ground connected to transmitter
2. The power supply voltage must be within the allowed range.
3.Make sure the fan ventilation is good.
Package Include:
1* FU-30/50B 30W FM transmitter
How to use FU-30/50B 30W FM Transmitter?
If you would like to build a FM radio/TV station or buy any FM/TV broadcasting equipment, please feel free to contact us via Email: rita@fmuser.net

FMUSER has upgraded panel design of all CZE series to FU series, stay tuned for further updates!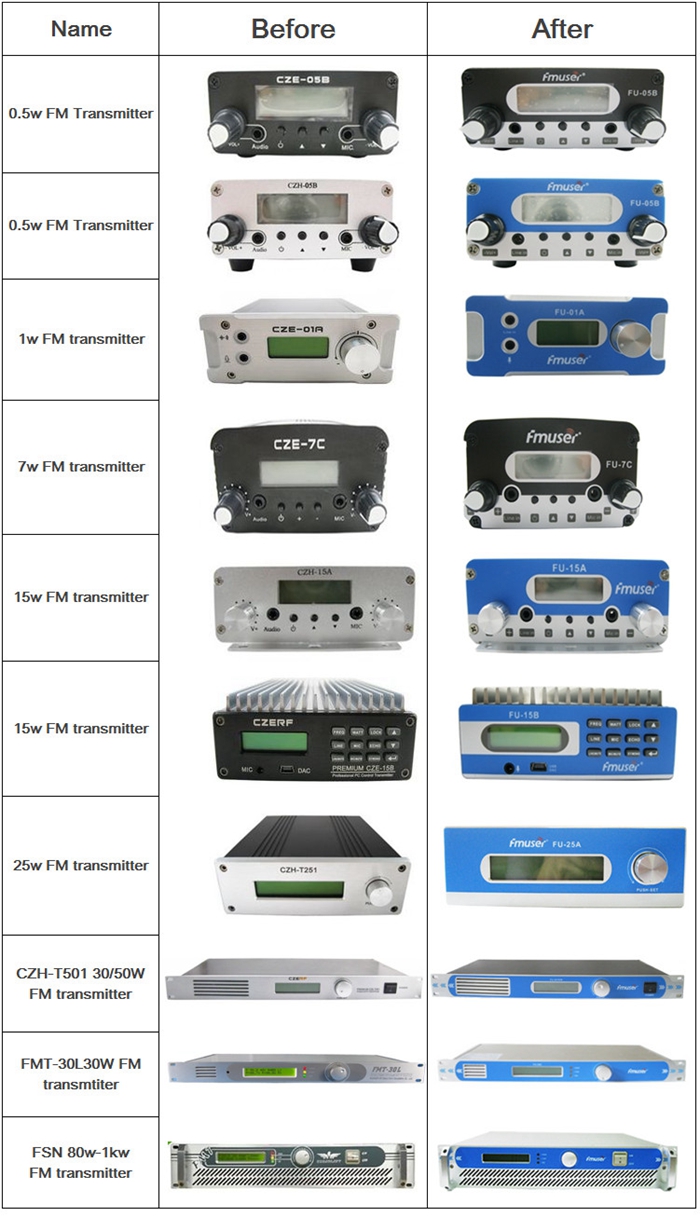 | | | | | | |
| --- | --- | --- | --- | --- | --- |
| Price(USD) | Qty(PCS) | Shipping(USD) | Total(USD) | Shipping Method | Payment |
| 525 | 1 | 40 | 565 | DHL | |
Leave a message 
Message List