Products Category
Products Tags
Fmuser Sites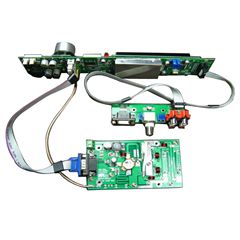 FSN-600K 600W FM Transmitter PCB DIY Assemble Kit FM Radio Broadcast Kit
FSN-600K 600W FM Transmitter PCB DIY Assemble Kit FM Radio Broadcast Kit This assemble kit is developed based on system integration and easy installation, it's a quick solution for FM broadcasting transmitter. It integrates display,controk,PLL,RF amplify,filter for FM transmitter to become a one stop solution center,which saves the cost and time for FM transmitter suppliers, the stablity is imporved also. FM transmitter suppliers can quickly assemble products using our kits without professional equipments. Features: This assemble kit is composed of FME controller board Integrate LCD display, MCU controller, PLL, stereo generator, 1W power amplifier. RF amplifying part adopts FREESCALE LDMOS transistor-MRFE6VP5600H.which
Detail
FMUSER has upgraded panel design of all CZE series to FU series, stay tuned for further updates!

 
| | | | | | |
| --- | --- | --- | --- | --- | --- |
| Price(USD) | Qty(PCS) | Shipping(USD) | Total(USD) | Shipping Method | Payment |
| 975 | 1 | 35 | 1010 | DHL | |
FSN-600K 600W FM Transmitter PCB DIY Assemble Kit FM Radio Broadcast Kit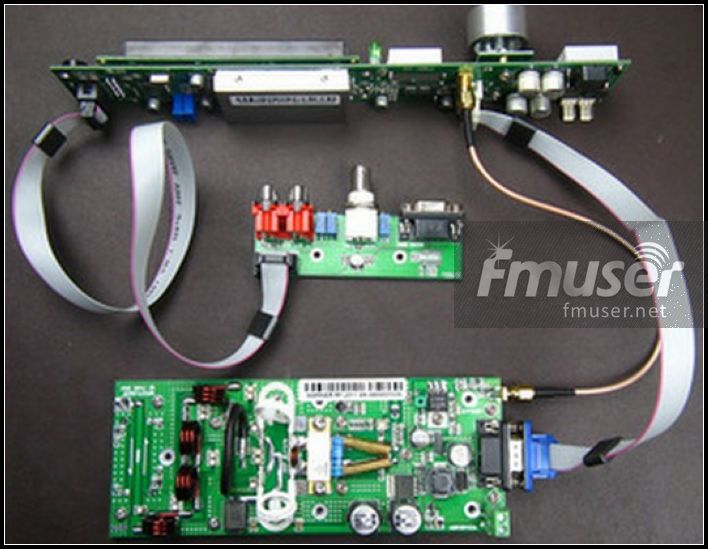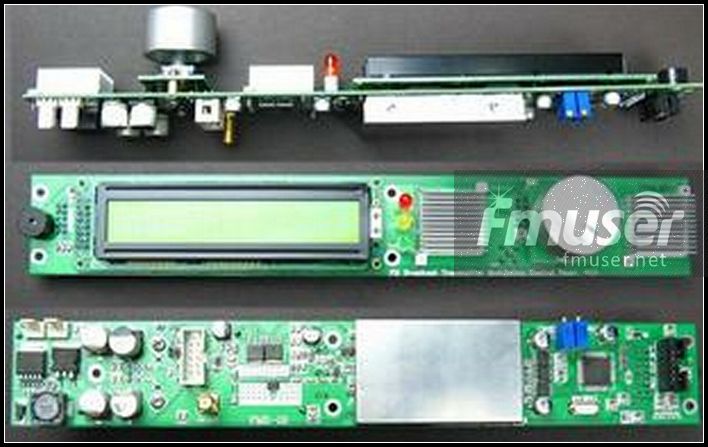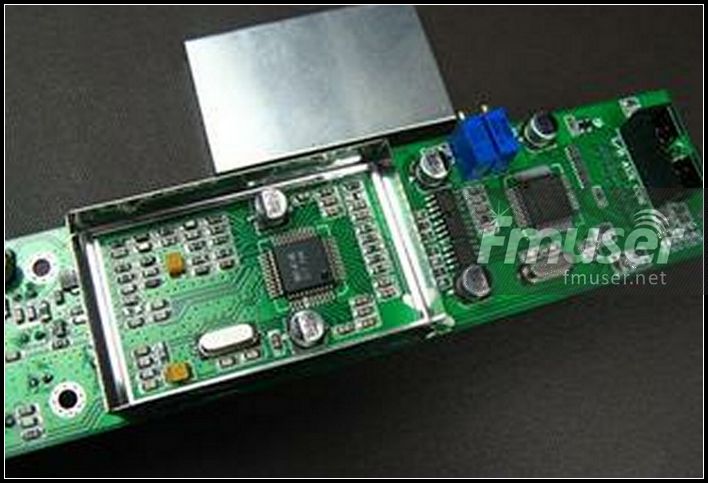 This assemble kit is developed based on system integration and easy installation, it's a quick solution for FM broadcasting transmitter. It integrates display,controk,PLL,RF amplify,filter for FM transmitter to become a one stop solution center,which saves the cost and time for FM transmitter suppliers, the stablity is imporved also. FM transmitter suppliers can quickly assemble products using our kits without professional equipments.
Features:
This assemble kit is composed of FME controller board Integrate LCD display, MCU controller, PLL, stereo generator, 1W power amplifier.
RF amplifying part adopts FREESCALE LDMOS transistor-MRFE6VP5600H.which uses the most advanced technology currently. It has extremely high VSWR of 65:1 and high gain of 27db. Its efficiency is also very high as 80%. All this make it outstanding among its counterparts in the market.
The amplifier board are made of green dual side high frequency Teflon PCB, in the bottom of which there are silver-plated copper to substrate thermal heat. It works very good in High frequency, the apperacence is delicate too. The FMA power amplifier module included RF amplifying, low pass filter circuit, VSWR protection circuit. The powr AGC keeps the power balanced from drifting. When FME controller board gets input power of 0~1watt, the output power will be 0~600watt.
The FME and FMA module both displays with LCD by the following parameters: Transmitting frequency, Stereo/Mono volume, amplifier temperature, forwarder power, reflect power, SWR.
TECHNICAL SPECIFICATIONS
:
- Power supply voltage: DC 50V
- Power Output: 0 to 600Watt adjustable (step 1W) ± 0.2dB
- Frequency range: 87.5-108 MHz
- Frequency Step: 0.1MHZ
- Operating Current: Less than 17A
- Input power: Less than 1 watt
- Harmonic suppression: -65 dBc
- Operating temperature: -10 ℃ ~ 50 ℃
- Frequency stability: ± 10 ppm (-10 ° C to +60 ° C )
- Frequency Response: 50 - 15000Hz
- SNR: More than 50dB
- Distortion: less than 0.5%
- Parasitic amplitude modulation: Less than 0.2%
- Frequency deviation: Less than ±75KHz
- Modulation Mode: WFM
- Transmission Signal: FM Stereo or Mono
- Tuning Design: Stable PLL Technology
- Audio Input Level: -15db Max: -30db
- Stereo Separation: More than 40db
- Output Impedance: 50 ohm
- FME-1B panel Size: 260MM(L) * 30MM(W) * 39MM(T)
- Amplifier PCB Size: 170MM(L) * 70MM(W) * 70MM(T)
Package Include:
1*FSN-600K 600W PCB KIT
FMUSER has upgraded panel design of all CZE series to FU series, stay tuned for further updates!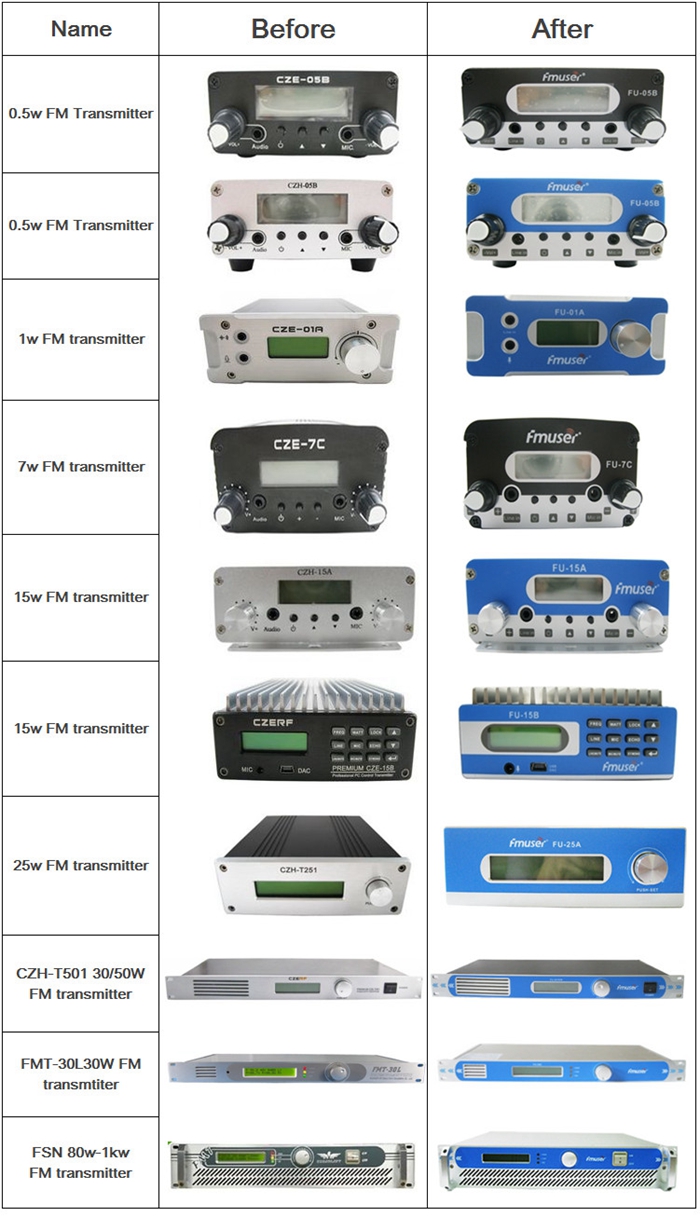 | | | | | | |
| --- | --- | --- | --- | --- | --- |
| Price(USD) | Qty(PCS) | Shipping(USD) | Total(USD) | Shipping Method | Payment |
| 975 | 1 | 35 | 1010 | DHL | |
Leave a message 
Message List