Products Category
Products Tags
Fmuser Sites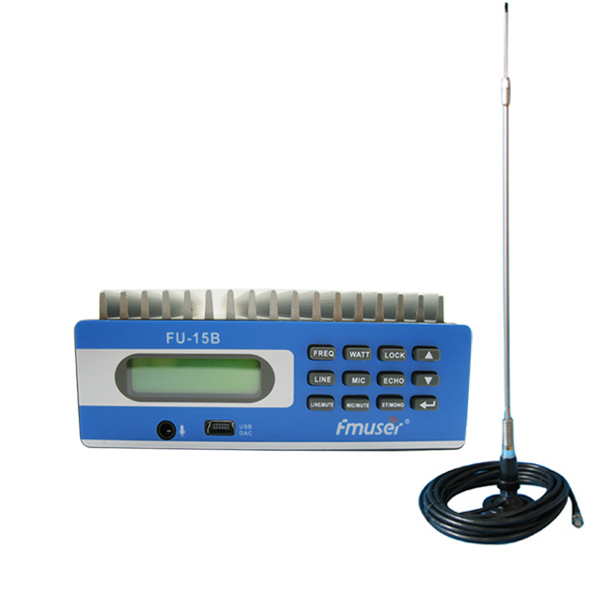 FMUSER FU-15B 15W FM Radio Transmitter Set FM Broadcast Transmitter FM Exciter+CA200 CAR Sucker FM Antenna Kit For Small Radio Station PC Control Temperature & SWR Protection SDA-15B CZE-15B
FMUSER FU-15B 15w FM Transmitter with PC Control Temperature & SWR Protection+CA200 CAR Sucker FM Antenna+Power Supply FMUSER is keeping developing new products with high quality and excellent performance. They might not be the cheapest, but they are the best at the most rational cost. Previously we have CZH-15A,known as 15watt transmitterin silver and black. They are popular and enjoy high reputation by the high quality, crystal clear sound effect. With temperature control function, the device runs with better insurance. Is this the best FM transmitter you've seen NO.Now we have FU-15B 15w transmitter,more perfect and more advanced.It is a versatile FM transmitter with a variety of protection features of high-f
Detail
FMUSER has upgraded panel design of all CZE series to FU series, stay tuned for further updates!

 
| | | | | | |
| --- | --- | --- | --- | --- | --- |
| Price(USD) | Qty(PCS) | Shipping(USD) | Total(USD) | Shipping Method | Payment |
| 215 | 1 | 35 | 250 | DHL | |


FMUSER FU-15B 15w FM Transmitter with PC Control Temperature & SWR Protection
+CA200 CAR Sucker FM Antenna+Power Supply


FMUSER is keeping developing new products with high quality and excellent performance. They might not be the cheapest, but they are the best at the most rational cost.
Previously we have CZH-15A,known as 15watt transmitterin silver and black. They are popular and enjoy high reputation by the high quality, crystal clear sound effect. With temperature control function, the device runs with better insurance.
Is this the best FM transmitter you've seen NO.Now we have FU-15B 15w transmitter,more perfect and more advanced.It is a versatile FM transmitter with a variety of protection features of high-fidelity sound, excellent harmonic, good clutter suppression and so on. It can quickly set up a reliable wireless high-fidelity sound system or FM radio wireless acoustic system, the ideal coverange is around 3~5km at 15watt.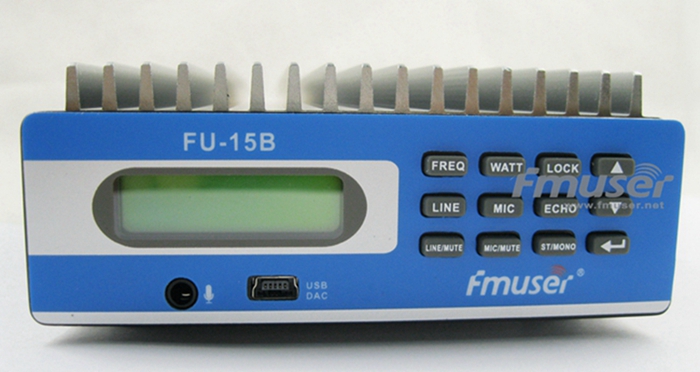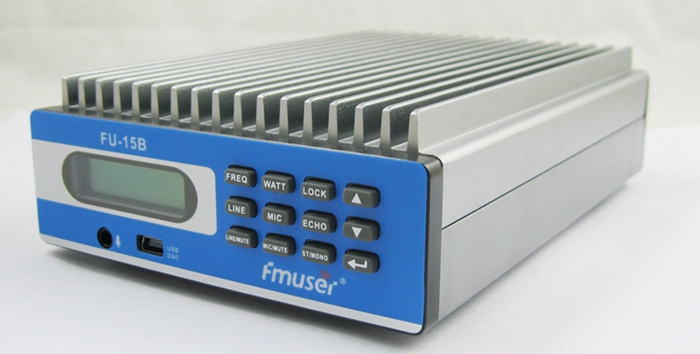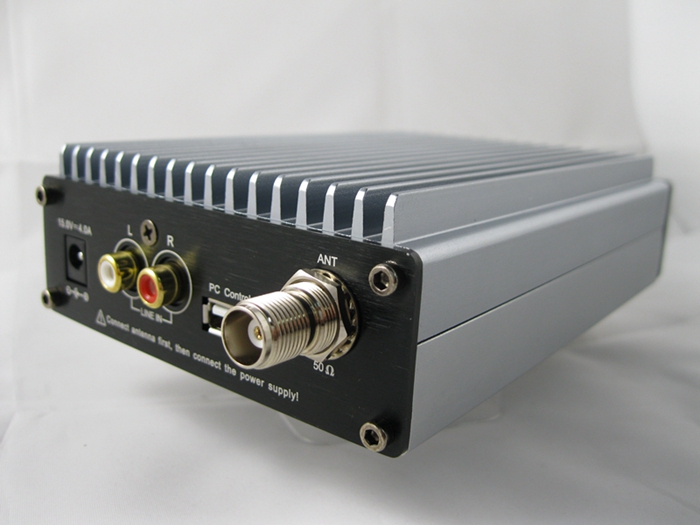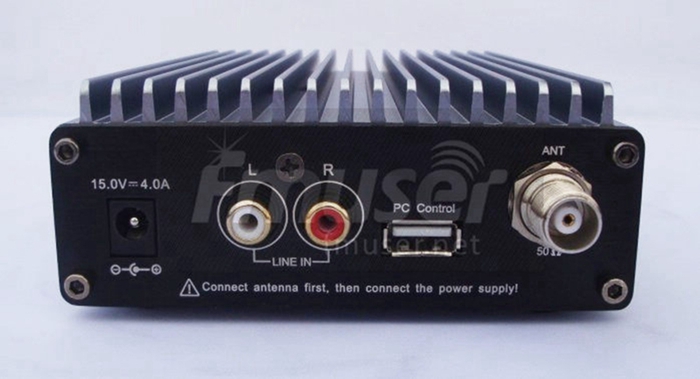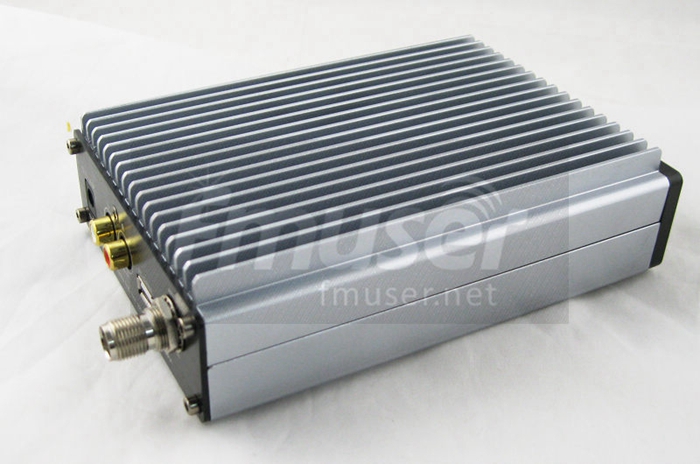 CA200 Car FM antenna
Main features:
>Output power continuously adjustable from 0W~15W
>Constant power, the whole band has 3~ 5W margin
>Output power automatic locking
>Microphone with reverb and can be turned on or off
>Channel is Optional: STEREO/MOMO
>PC control port, computer manipulation through software, more advanced.
>Audio digital-analog conversion, easier digital input
>SWR protection:If the antenna is not connected correctly,there willl be automatic acces for protection
>Temperature protection, automatic protection when the transmitter temperature is too high
>Fan with temperature control switch,automatic ON/OFF
>Clear display, Precise panel, Simple operation
>High quality aluminum alloy used for the transmitter, very firm and durable
Technical Specification:
>Output Power:0W~ 15W(continuously adjustable)
>Operating voltage 12V ~ 16V (rated voltage 15V)
>Frequency stability ±10PPM
>Operating temperature range -10°c ~ 45°c
>Harmonics, spurious radiation ≤-60dB
>Frequency Response 50HZ ~ 15000HZ
>Input level -15 dBV (adjustable)
>Frequency deviation ±75KHZ
>Size: 173 mm (L) * 110 mm (W) * 48 mm (H)
>Weight: 0.7KG
Package Include:
1 * FU-15B 15W FM transmitter
1 * CAR Sucker antenna
1 * 15v 4A power supply
1 * USB line
1 * Choseal Q-354 Audio cable(Very high quality)
Attention:
Connect antenna first, then connect power supply. Otherwise the device could be burned off.
FMUSER has upgraded panel design of all CZE series to FU series, stay tuned for further updates!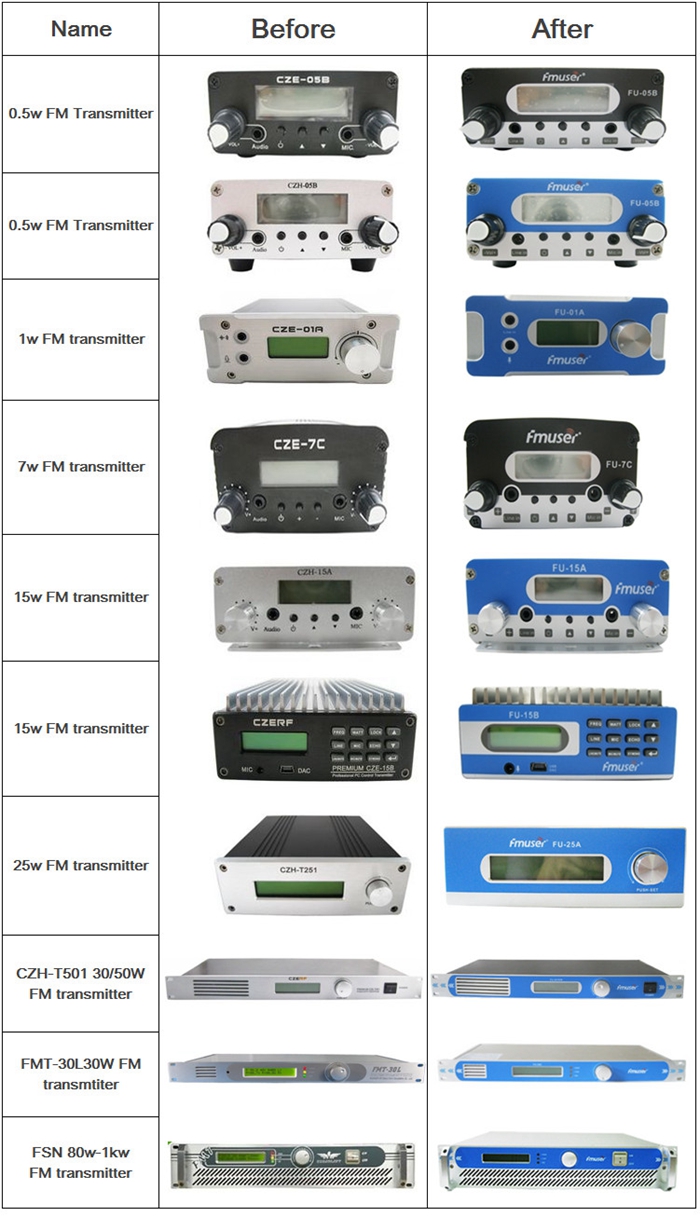 | | | | | | |
| --- | --- | --- | --- | --- | --- |
| Price(USD) | Qty(PCS) | Shipping(USD) | Total(USD) | Shipping Method | Payment |
| 215 | 1 | 35 | 250 | DHL | |
Leave a message 
Message List