Products Category
Products Tags
Fmuser Sites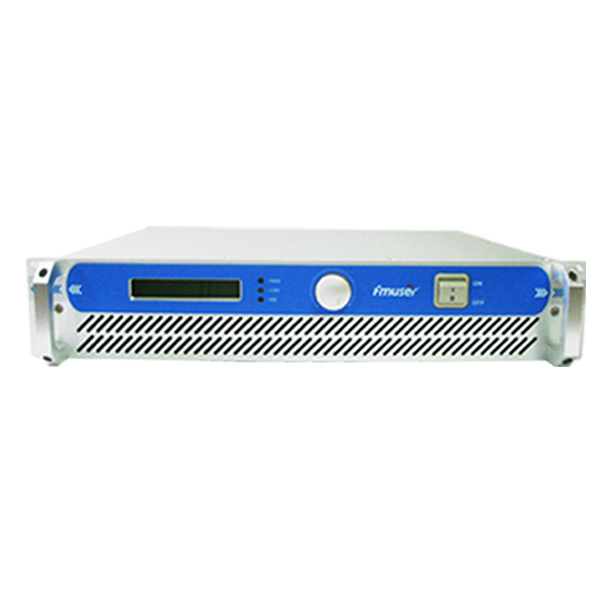 New Arrival! FSN-1000 1000W 1KW Power Adjustable FM Transmitter for FM Radio Broadcasting Station City radio Station
Special Offer!! Price before: 3278USD Now 3278USD 3169USD with shipping!!! New Arrival! FSN-1000-1000W 1KW Power Adjustable FM Transmitter for FM Radio Broadcasting Station City radio Station Description: FSN-1000 is a high reliability solid broadband FM transmitter&Exciter of 1 kilowatt power output. It works at 87.5-108MHz at frequency step of 100KHz. The RF power output is 0-999W adjustable by 1w stepping. This transmitter can broadcast with our free provided auto-broadcast software to realize
Detail
FMUSER has upgraded panel design of all CZE series to FU series, stay tuned for further updates!

 
| | | | | | |
| --- | --- | --- | --- | --- | --- |
| Price(USD) | Qty(PCS) | Shipping(USD) | Total(USD) | Shipping Method | Payment |
| 3169 | 1 | 0 | 3169 | DHL | |



Special Offer!!

Price before: 3278USD

Now 3278USD 3169USD with shipping!!!
New Arrival! FSN-1000-1000W 1KW Power Adjustable FM Transmitter for FM Radio Broadcasting Station City radio Station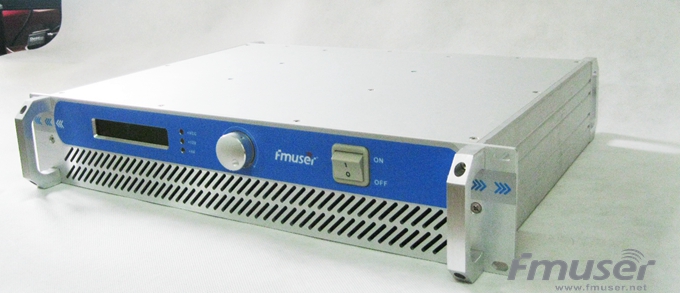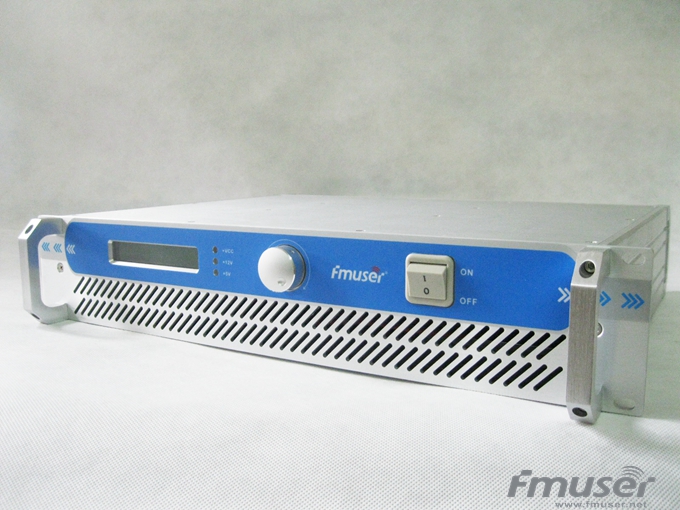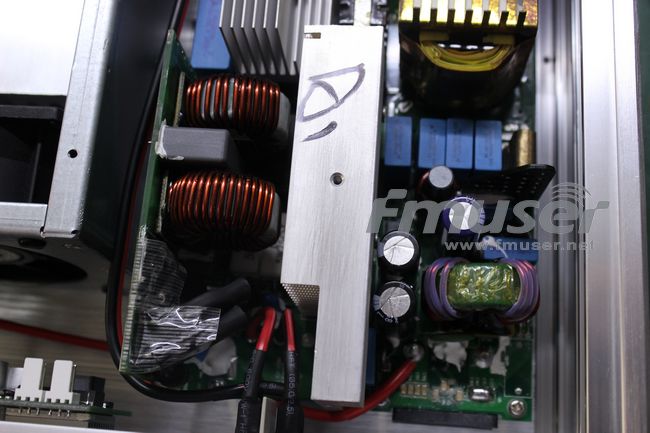 Description:
FSN-1000 is a high reliability solid broadband FM transmitter&Exciter of 1 kilowatt power output. It works at 87.5-108MHz at frequency step of 100KHz. The RF power output is 0-999W adjustable by 1w stepping. This transmitter can broadcast with our free provided auto-broadcast software to realize the full automation of transmission. It adopts the core of Freescale transistors, which is very famous for its stability and has overcome all other similar products in the market.

Features:
1. Humane design of digital control board, control direclty by coding switch
2. Integrate LCD display for all parameters, including Frequency, Stereo&Mono, Volume, Transistor Temperature, Audio Signal UV meter, Forward power, Reflect power.
3. Thicker Aluminum chassis, very firm, excellent ventilation .
4. Precise PLL frequency generating system, stable for at least 10 years. Built-in stereo generator.
5. Outstanding AGC balance control system, RF output power is adjustable from 0~999w, automatic gain control enables the power to be stable from drifting.
6. XLR audio input, SCA and RDS signal input through BNC interface with AUX connection.
7. It adopts the Freescale MRF6VP61K25H, which has extremely high VSWR resistant alibility of 65:1, and high gain of 27db and efficiency of 80%. The official use life of the transistor is claimed to be 2000 years.
8. Turn the PC-LINK set to "ON" status, our auto-broadcast sofeware will help realize the unattended scheduled broadcasting.

Technical Specification:
Frequency :87-108MHz, can be customized 70 ~ 110MHz according to user .
Frequency Step value: 100KHz ,can be customized 10KHz or 50KHz.
Modulation mode : FM, the peak deviation ± 75KHz
Frequency stability: <± 100Hz
Frequency stabilization mode: PLL
Frequency Synthesizer PLL
RF output power: 0 ~ 1000 watts ± 0.5dB
Harmonic: <-65dBc
RF output impedance: 50Ω
RF Output Connector: L29 Female
Audio Input Connector: XLR
SCA and RDS input connectors: BNC female
Pre-emphasis: 50us, 75us (user selectable)
S / N ratio of mono:> 70 dB (20 to 20KHz)
S / N ratio stereo:> 65 dB (20 to 15KHz)
Stereo Separation:-50dBAudio
Frequency Response: 80 ~ 15000Hz
Audio Distortion: <0.5%
Modulation: 15%
Input Level:-15dBV
Main Power Requirements: 220V or 110V
Operating temperature range: -20 to 45 ℃
Work: continuous
Work Size: 483 x 88x 320 mm, 19-inch standard rack 3U.
Reference range: 20Km-30Km
Weight: 11 kg

Package Include:
1* FSN-1000 1000W FM Transmitter
1* Power cord
FMUSER has upgraded panel design of all CZE series to FU series, stay tuned for further updates!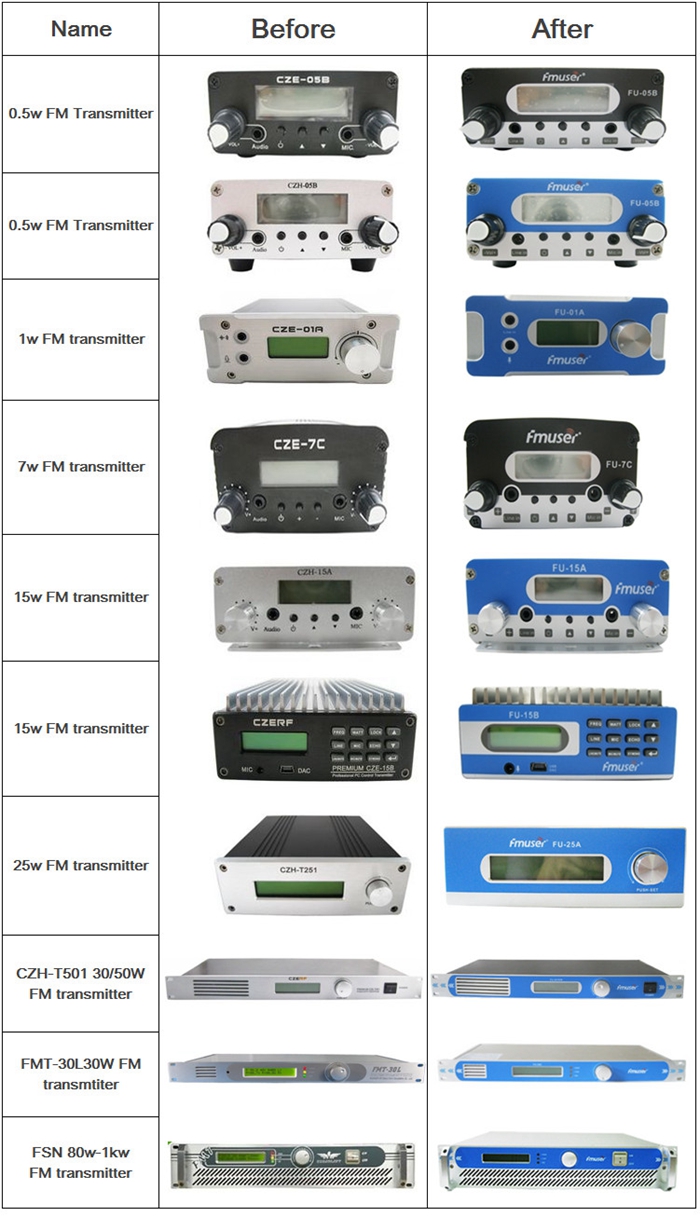 | | | | | | |
| --- | --- | --- | --- | --- | --- |
| Price(USD) | Qty(PCS) | Shipping(USD) | Total(USD) | Shipping Method | Payment |
| 3169 | 1 | 0 | 3169 | DHL | |
Leave a message 
Message List