Products Category
Products Tags
Fmuser Sites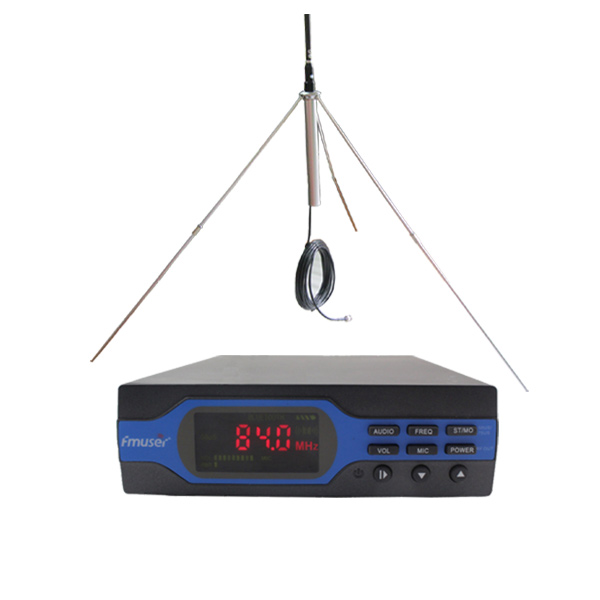 FMUSER FU-X01CK2 Portable FM Transmitter 1w Power Output Outdoor GP Antenna Set (8G TF Card+Battery+Bluetooth)
FMUSER FU-X01CK2 Portable FM Transmitter 1w Power Output Outdoor GP Antenna Set (8G TF Card+Battery+Bluetooth) For small FM radio stations/school/stadium/conference/travel Front Panel ①LED panel ②Volume ③On/Off & Play/Pause ④Decrease/Next ⑤Increase/Previous ⑥Power Output ⑦Microphone Volume ⑧Switch audio source ⑨Frequency Regulation ⑩ Press: Switch Stereo/Mono Press&Hold: Switch Pre-emphasis (50/75us) Rear Panel ①Power Supply Input (12V 1.0A) ②TF Card Slot ③Line In (RCA-L) ④Line In
Detail
FMUSER has upgraded panel design of all CZE series to FU series, stay tuned for further updates!

 
| | | | | | |
| --- | --- | --- | --- | --- | --- |
| Price(USD) | Qty(PCS) | Shipping(USD) | Total(USD) | Shipping Method | Payment |
| 190 | 1 | 50 | 240 | DHL | |
FMUSER FU-X01CK2 Portable FM Transmitter 1w Power Output Outdoor GP Antenna Set (8G TF Card+Battery+Bluetooth)
For small FM radio stations/school/stadium/conference/travel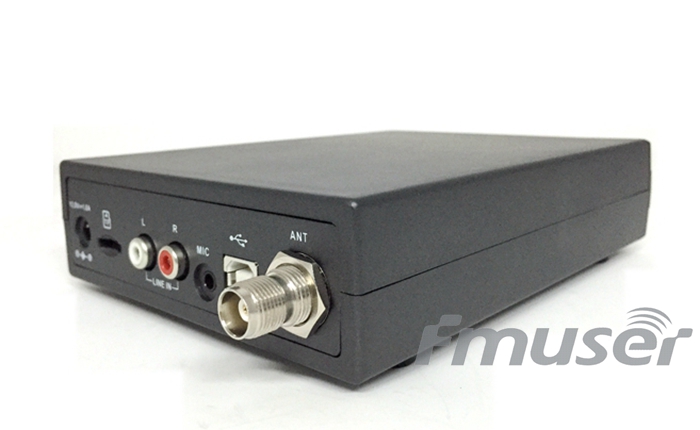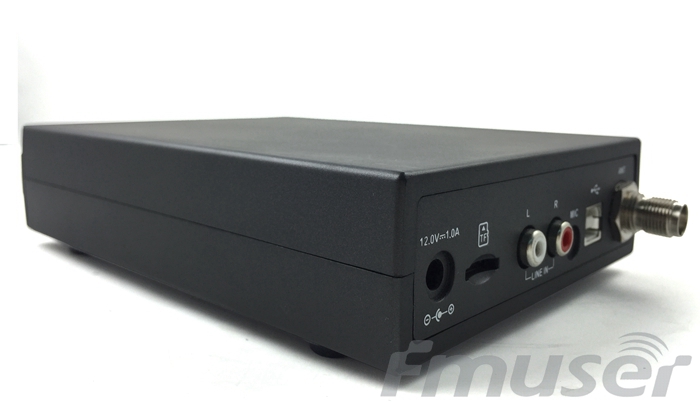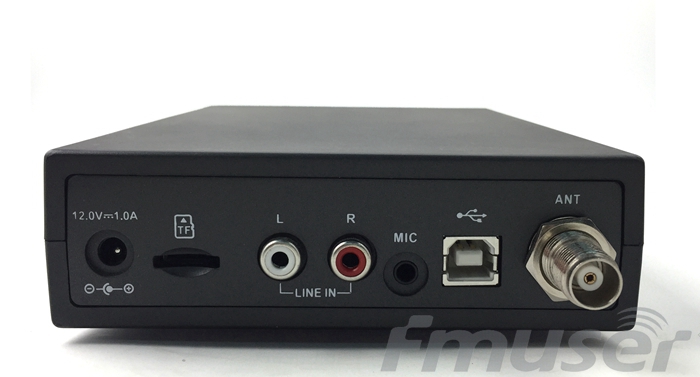 Front Panel
②Volume
③On/Off & Play/Pause
④Decrease/Next
⑤Increase/Previous
⑥Power Output
⑦Microphone Volume
⑧Switch audio source
⑨Frequency Regulation
⑩ Press: Switch Stereo/Mono
Press&Hold: Switch Pre-emphasis (50/75us)
Rear Panel

①Power Supply Input (12V 1.0A)
②TF Card Slot
③Line In (RCA-L)
④Line In (RCA-R)
⑤MIC Input
⑥Data Communication Interface
⑦Antenna Output (TNC-J)
①LINE-in Volume
②Power Output
③MIC Volume
④Stereo/Mono
⑤Battery Power
⑥Broadcast Frequency
⑦ Audio Input source
⑧Pre-emphasis
⑨Serial number of song playing ( Under TF Card play mode)
⑩ Audio Play mode-TF card ⑾ Bluetooth connected
Antenna
Power Adapter
FU-T01B/FU-X01B Fm transmitter is FMUSER's new cost effective design integrating TF Card mp3 reader,bluetooth,rechargeable Battery power function in one small box.
FU-T01B/FU-X01B is designed for home use ,it is easy to change frequency due to its worldwide band of 76-108mhz.
The audio pre-emphasis is also adjustable between 50US(EURO) / 75US(USA).
The transmitting power is also tunable from 0-11 steps to control the cover range.
Another surprising innovation is the Auto-shut down function, when there is no audio input, the device will be powered off automatically to save the power. All the setting will be saved and be the same on next boost.


Features
* User-friendly operation
* Auto power off when no audio IN
* RCA and 3.5mm interface for audio line-in
* 3 modules optional, TF card MP3 function, Bluetooth audio, rechargeable battery.
* Microphone input volume will be tuned up in priority when there is an input, the main volume will be tuned down automatically.
* Worldwide band 76~108Mhz for any country, easy to setup and change
* RF output power is adjustable from 0~1w by 11 levels. Level 0 means no power is transmitted out.
* Audio pre-emphasis is adjustable between 50US(EURO) / 75US(USA)
* Mono and stereo switchable
* Broadcast distance: 0-1km adjustable(The distance is estimated in open environment and just for reference)
* Current settings will be memorized, it automatically starts from the previous settings when the transmitter is turned on again.


RF Parameters
Frequency range: 76~108MHZ(frequency band may customized when MOQ is over 100pcs)
Frequency stepping: 100KHZ,0.1MHZ
Frequency deviation: +-75KHZ
RF Power: 0-1W ,11 levels adjustable.
Harmonic and clatter: less than 60dB
SNO Rate:no less than 60dB
RF output: TNC-K,50 Ohm


Audio Parameters
Audio input: analog audio 3.5mm in ,RCA in
Mic input:3.5mm in
Audio Input Channel:Line in (3.5mm/RCA), TF Card MP3,Bluetooth
Audio input level: 15dBV
Audio distortion: less than 0.2%
Audio frequency response: 50HZ~15000HZ
Stereo separation: more than 40dB
Pre-emphasis: 50US/ 75US switchable
Audio control: electronic volume control,11 levels adjustable from 0~10, level 0 means no volume output.
MIC control: electronic volume control,11 levels adjustable from 0~10, level 0 means no volume output.


Other Parameters:
Work voltage: 12V
Work current: <0.4A(At Maximum power mode)
Work temperature: -10~45
Product dimension: 162*120*40MM
Packing weight: 0.99KG
3 Outstanding Configurations:
No.1: TF Card MP3play module
MP3 Play: Play/Pause, Previous, Next.
MP3 Play: switch to MP3 mode, press play button to play loop.
MP3 dynamic range: 90dB
MP3 SNO Rate:85dB
MP3 file:Support Sampling rate(KHZ)8/11.025/12/16/22.05/24/32/44.1/48(Support all bit rate 11172-3 and ISO13813-3 LAYER3 audio decode)
MP3 support TF card: Support FAT16、FAT32 document system,supports TF cards of 32G maximum
MP3 support file:MP3 and WAV format audio. (Other audio formats are not supported to play, the player module could be damaged by copying the files in others unsupported formats)
MP3 display:switch to the MP3 mode, the LCD will display general music data, the
song details will be shown by 3 seconds when it's playing.
MP3 external support:support control of MP3 play through serial ports, support MP3 play control by Bluetooth.
MP3 song choice:support choosing songs by Bluetooth or serial ports.

No.2: Bluetooth music input module
Bluetooth play:support Bluetooth play.
Bluetooth control:support Bluetooth control all operations of transmitter.
Bluetooth distance: less than 10 meters.
Bluetooth play: supports control Bluetooth play/pause/previous/next from device.

No.3: Rechargeable battery module
Use Battery: support external battery, 3pcs of 18650 li-on battery.
Battery recharge: adopt specialized battery chip, which can charge, product and
automatically stop charging when battery is full.
Battery protection: When the voltage of battery goes down to the lowest level, the battery will stop output automatically to protect itself from damage.
Battery life: Continuously work about 4 hours at 1300MA in maximum power output.
This FU-X01CK2 is an upgrade version of FU-01A 1W FM transmitter, it is more delicate in technics and functions, have a glance below:
===================================================================================
Package Include:
1* FU-X01C Advanced 1w FM transmitter (with Bluetooth, TF card and Battery)
1* GP100 Antenna+8m RF cable
1* Power adapter
1* Line-in Cable
1* USB cable
=================================================================================
Other configurations are optional for this transmitter(At different cost):

FMUSER has upgraded panel design of all CZE series to FU series, stay tuned for further updates!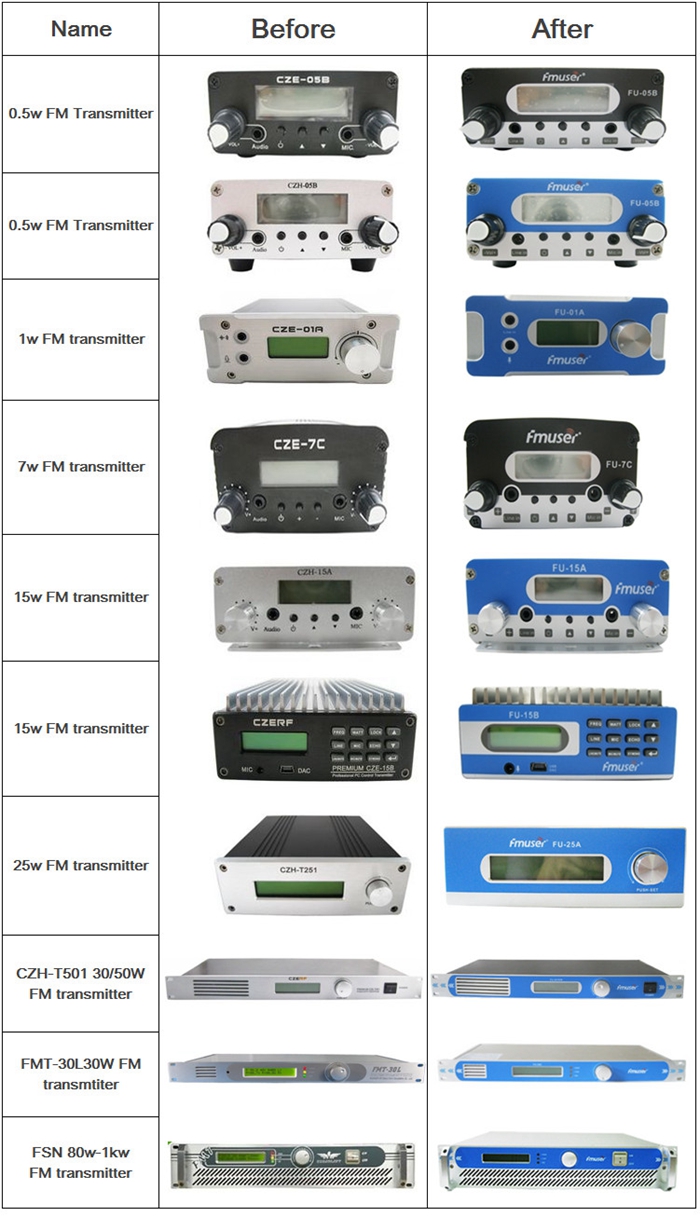 | | | | | | |
| --- | --- | --- | --- | --- | --- |
| Price(USD) | Qty(PCS) | Shipping(USD) | Total(USD) | Shipping Method | Payment |
| 190 | 1 | 50 | 240 | DHL | |
Leave a message 
Message List