Products Category
Products Tags
Fmuser Sites
FMUSER FUTV-8221H 3w 5KM Live News Interview UHF 720 HD HDMI COFDM MPEG2 4 H.264 Transmitter for Camera
FUTV-8221H 3w 5KM Live News Interview UHF 720 HD HDMI COFDM MPEG2 4 H.264 Transmitter for Camera R: V20151130-10-55 Data sheet User Manual Input:CVBS, YPbPr, S-Video, HDMI Product Introduction The wireless digital image transmission system (which comprises the wireless transmitter and receiver) adopts the advanced COFDM modulation technology and the channel codes and combines with MPEG4 AVC/H.264 digital image compression multimedia network transmission technology. In addition to high-speed movement and non-line of sight, it can achieve the real time and synchronous transmission of broadband multimedia services such as Video, Audio, data and etc. The system has features of flexible structure, wide cov
Detail
FMUSER has upgraded panel design of all CZE series to FU series, stay tuned for further updates!

 
| | | | | | |
| --- | --- | --- | --- | --- | --- |
| Price(USD) | Qty(PCS) | Shipping(USD) | Total(USD) | Shipping Method | Payment |
| | 1 | 0 | 0 | DHL | inquire |
FUTV-8221H 3w 5KM
Live News Interview UHF 720 HD HDMI COFDM MPEG2 4 H.264 Transmitter for Camera
R: V20151130-10-55

Data sheet

User Manual
Input:CVBS, YPbPr, S-Video, HDMI
Product Introduction
The wireless digital image transmission system (which comprises the wireless transmitter and receiver) adopts the advanced COFDM modulation technology and the channel codes and combines with MPEG4 AVC/H.264 digital image compression multimedia network transmission technology. In addition to high-speed movement and non-line of sight, it can achieve the real time and synchronous transmission of broadband multimedia services such as Video, Audio, data and etc. The system has features of flexible structure, wide coverage, good mobility, strong ability to combat interference and fading.
It is an ideal solution for providing long distance, high quality and high efficiency of wireless real-time transmission applied in emergency telecommunications such as commanding, emergency rescues, and multiple fields like investigation, field battle, public security, armed police, fire control, oil field, mines, water project, electricity, and so on.
Key Features
·Unfixed spot positioning transmitting of remote distance
·It can transmit close-distance, continuous, and moving (non-vision distance) real-time AV signal.
·Adjustable transmitting power (0-3 W) and frequency (200-900 MHz)
·Adjustable modulating mode (QPSK/16QAM/64QAM)
·The emission system can simultaneously send one video and one audio
·Image quality guaranteed in the transmission process.
·Stable and reliable emission system
·It can cooperate with satellite image car as a repeater.
·It adopts COFDM modulation mode, besides it has strong multipath interference rejection ability, so it can realize 180km/h within the high-speed mobile transmission in signal coverage area
·1-3 kilometer transmitting distance available
Appearance and Illustration
Front Panel Illustration
Real Panel Illustration
Transmitter Installation
The antenna for the transmitter and receiver
Receiver installation
Portable Wireles Transmit
Technical Specifications
Principle Chart
Web NMS Operation
Welcome
Receiver Configuration and Decoder Setting

Network
Transmitting System
Package List
FMUSER has upgraded panel design of all CZE series to FU series, stay tuned for further updates!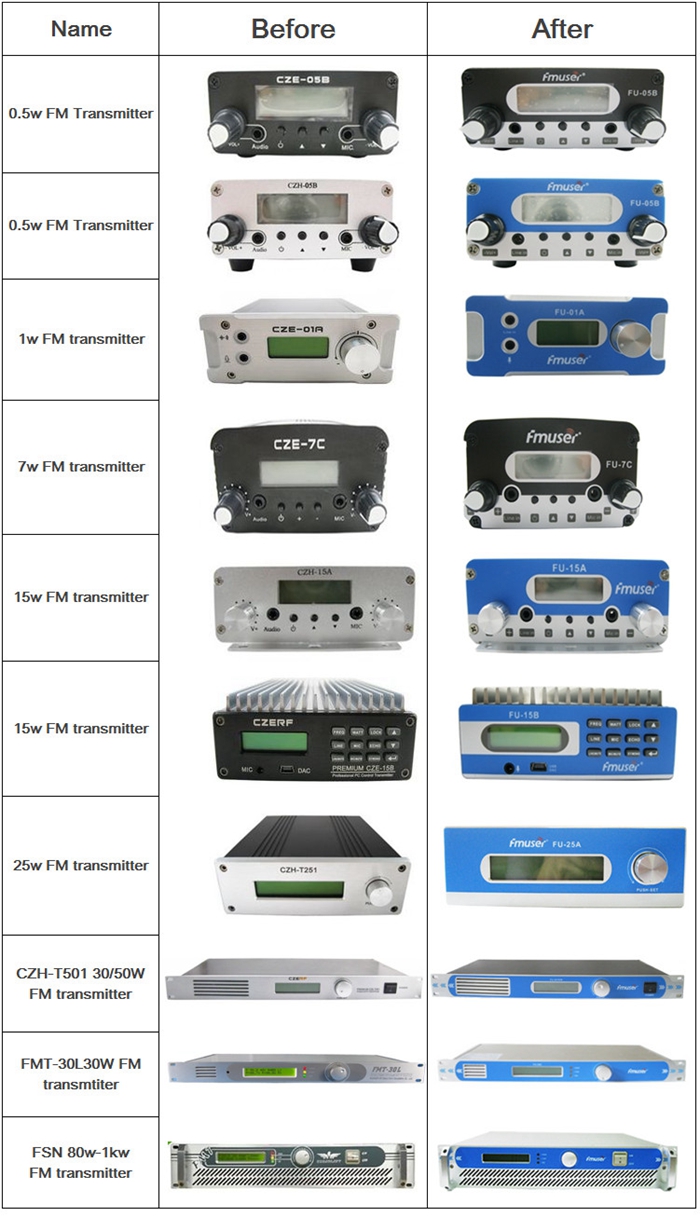 | | | | | | |
| --- | --- | --- | --- | --- | --- |
| Price(USD) | Qty(PCS) | Shipping(USD) | Total(USD) | Shipping Method | Payment |
| | 1 | 0 | 0 | DHL | inquire |
Leave a message 
Message List