Products Category
Products Tags
Fmuser Sites
FMUSER Economic FM Radio Station Studio Package 150w FM transmitter 10-15 Kilometers
FMUSER Economic FM Radio Station Studio Package 150w FM transmitter 10-15 Kilometers This is a complete package for FM Radio Station, including the studio part and transmission part. By using this radio station package, which includes 150W FM transmitter with a high gain FM Dipole antenna, it can broadcast about 10-15 kilometers distance in open environment. The package includes following items: 1. 150w FM transmitter 1pcs 2. FU-DV1 FM dipole antenna 1pcs 3. RF 1/2'' Cable 30meters 4. RF connector for cable 2pcs 5. Behringer Audio Processor 1pcs 6. Behringer 8 way Audio Mixe
Detail
FMUSER has upgraded panel design of all CZE series to FU series, stay tuned for further updates!

 
| | | | | | |
| --- | --- | --- | --- | --- | --- |
| Price(USD) | Qty(PCS) | Shipping(USD) | Total(USD) | Shipping Method | Payment |
| 2955 | 1 | 400 | 3355 | DHL | |
FMUSER Economic FM Radio Station Studio Package 150w FM transmitter 10-15 Kilometers

This is a complete package for FM Radio Station, including the studio part and transmission part.
By using this radio station package, which includes 150W FM transmitter with a high gain FM Dipole antenna, it can broadcast about 10-15 kilometers distance in open environment.
The package includes following items:
1. 150w FM transmitter 1pcs
2. FU-DV1 FM dipole antenna 1pcs
3. RF 1/2'' Cable 30meters
4. RF connector for cable 2pcs
5. Behringer Audio Processor 1pcs
6. Behringer 8 way Audio Mixer 1pcs
7. Takstar condenser Microphone 2pcs
8. Microphone Stand 2pcs
9. BOP cover 2pcs
10. Hivi high quality monitor speaker with bluetooth 2pcs
11. AKG headphone 1pcs
12. Tascam professional Outdoor Live Interview audio recorder 1pcs
13. Audio connection cables 1set



* Professional stereo sound with excellent separation
* Standard 19″ 2H rack, clean design and high quality
* Low distortion and good Signal/Noise ratio
* Built-in CPU system for controlling and monitoring
* Advanced TEMP and SWR protection
* Frequency range: 87.5-108 MHz, 10 KHz/Step
* RF output power:0-150w
* RF output connector: N type -female
* Audio input connector: XLR-female
* MPX and AUX input connector: BNC-female
* Pre-emphasis: 0 / 50 / 75 us
* Mains power supply requirements: 90~264VAC;127~370VDC
* Operating temperature range: -10 to 45 ℃
* Weight: 10 Kg

1* Professional FM Dipole Antenna
1.Frequency Range:87-108 MHz(we can make either full band/fixed frequency)
2.Input Impedance: 50 ohm
3.VSWR:<1.3 (full band),<1.10(fixed frequency)
4.Gain:1.5 dB
5.Polarization:Verticality
6.The antenna array unit is particularly suitable for forming a variety of radiation pattern
7.Maximum Power Input-watts:1KW/3KW/5KW/10KW
8.Lighting Protection: Direct Grounding
9.Connector: L27-50K(1KW), IF45-50K(3KW), IF70-50K(5KW), IF110-50K(10KW)
10.Dimension:1415×1100×70 mm(L/W/D)
11.Weight: 7KG
12.Rated Wind Velocity: 200 km/h
13.Radiating Element Material:Aluminum Alloy
14.Holding Pole Diameter: 50-100 mm

1* 30M Coaxial Cable with Connectors
| | |
| --- | --- |
| | 30meters 1/2'' Feeder cable, with 2 connectors crimped |
Features:
XENYX FU1204USB 8-way audio mixer
*Premium 12-Input 2/2-Bus Mixer with XENYX Mic Preamps Compressors, British EQs and USB/Audio Interface

*4 studio-grade compressors with super-easy "one-knob" functionality and control LED for professional vocal and instrumental sound


*2 aux sends per channel: 1 pre fader for monitoring applications, 1 post fader for external FX devices

*2 subgroups with separate outputs for added routing flexibility

*High-quality components and exceptionally rugged construction ensure long life






FUK 92 Monitor headphone
Semi-open, dynamic hi-fi stereo headphones
Low weight for excellent comfort
Skin compatible leatherette ear pads
Great for laptops and MP3 players
Type: semi-open, dynamic headphones
Sensitivity: 112 dB/V
Frequency range: 18 to 22,000 Hz
Rated impedance: 32 ohms
Max. input power: 200 mW
Cable: 3 m single-sided (99,9% oxygen-free)
Connector: stereo mini plug
Adapter: convertible jack plug (1/8" to 1/4")
Net weight (without cable): 210 g (7.4 oz.)
Shipping weight: 400 g (14.1 oz.)

FUD1010-IVB 2.0 Powered Bluetooth Monitor Speakers

*Drivers Configuration: 4'' bass-midrange driver; 0.8'' dome tweeter
*Frequency Range: 62Hz to 20kHz
*Sensitity: 85dB
*Nominal Impedance: 4Ω
*Power Handling: 10-50W
*Power Range: 34W
*Active Crossover Frequency: 1.8kHz
*Bass Adjust: ±3dB (100Hz)
*Treble Adjust: ±3dB (10kHz)
*Separation: >49dB
*Signal-to-Noise: >74dB (Unweighted)
*Harmonic Distortion: THD < 1%
*Input Sensitivity: 800mV
*Input Impedance: 32kΩ
*Dimensions ( W x D x H): 6.1'' x 8.5'' x 8.4''
Feature
FMUSER FU2600
* Reference-Class 2-Channel Expander/Gate/Compressor/Peak Limiter with Integrated Dynamic Enhancer, De-Esser and Low Contour Filter
* Switchable IKA (Interactive Knee Adaptation) program-adaptive compression circuitry combines the advantages of hard-knee and soft-knee characteristics
* Adjustable dynamic Enhancer with level meter for brilliant, lively audio even with heavy compression
* IGC (Interactive Gain Control) peak limiting circuitry combines clipper and program limiter for reliable and inaudible protection against signal peaks
* Switchable De-esser removes excessive sibilance from your vocal tracks
* IRC (Interactive Ratio Control) expander/gate circuitry for virtually inaudible noise suppression
* Automatically or manually adjustable attack and release times



• Sound head: Capacitive
• Directivity: Heart type
• Frequency response: 30Hz-20kHz
• Sensitivity: -36dB ± 3dB (0dB = 1V / Pa at 1kHz)
• Output impedance: 380Ω ± 30% (at 1kHz)
• Load impedance: ≥1000Ω
• Equivalent noise level: ≤ 24dB A (IEC 581-5)
• Peak sound pressure level: 130dB (at 1 KHz 0dB, THD≤1%)
• Power supply: 48V phantom power
• Unit size: 54 x 128mm
• Weight: 371g


Feature
* Four external springs
* Cantilever fastening knob
* Upper two tubes, the lower three tubes, increase stability
* Can be used for horizontal and vertical installation
* Hollow stent may be passing through the cable from the boom
* Chassis Mount Standard accessories
Feature
* Large double filter
* Broadcast Recording
* Microphone BOP cover
1* Tascam professional Audio Recorder
4-Channel 96kHz/24-bit Digital Recorder with XLR Inputs and Adjustable Mics

The DR-40 captures up to four tracks from built-in, high-quality condenser microphones, XLR mic or line inputs. The internal mics are adjustable from XY to AB position, helping you to tailor your recording to the sound of the room. A pair of great-sounding TASCAM microphone preamps welcome condenser microphones with phantom power, recording at up to 96kHz/24-bit resolution. It accommodates balanced XLR or 1/4" line inputs using locking Neutrik Combo jacks. The DR-40 accepts SD or SDHC cards up to 32GB, and a 2GB card is included.

Once recorded, play back your takes with EQ and the optional Level Align feature to avoid volume jumps. A stereo reverb effect is also built-in, as well as a speaker and chromatic tuner. Transfer recordings to computer using the USB 2.0 jack. Other features include overdub mode, variable speed playback, limiting and low cut filter, and much more – all with TASCAM's simple-to-use interface. No other recorder makes home or live recording as simple as the TASCAM DR-40.




1* Audio Connection Cable Set
FMUSER has upgraded panel design of all CZE series to FU series, stay tuned for further updates!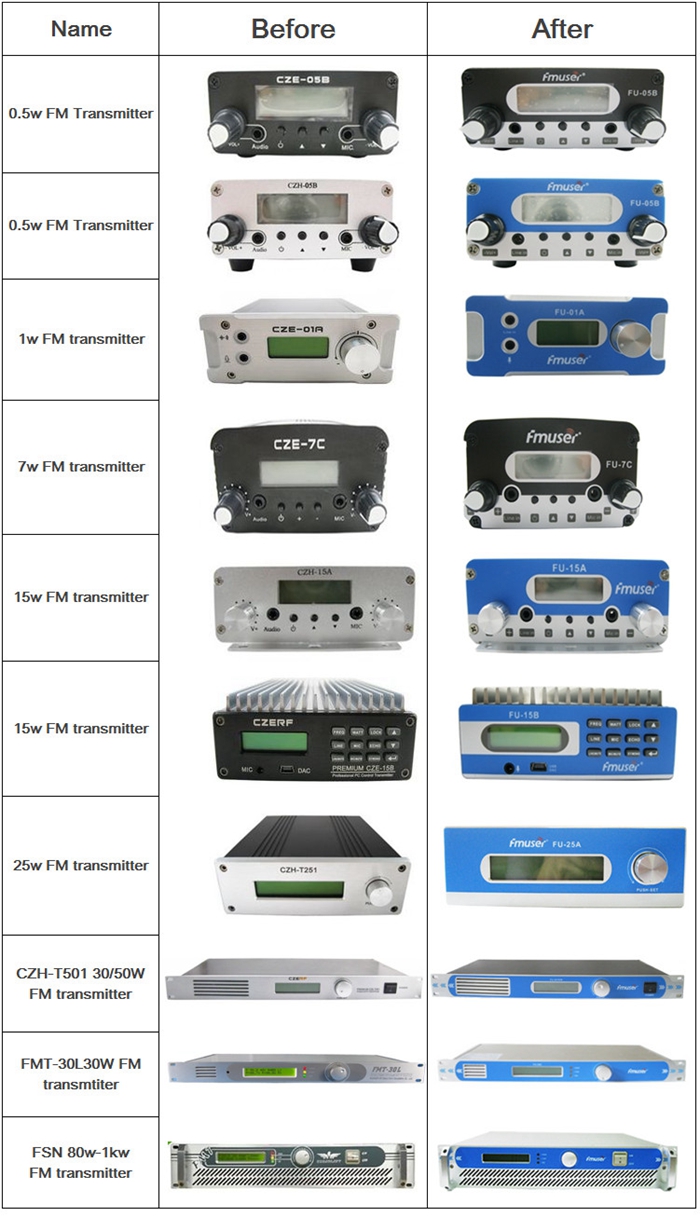 | | | | | | |
| --- | --- | --- | --- | --- | --- |
| Price(USD) | Qty(PCS) | Shipping(USD) | Total(USD) | Shipping Method | Payment |
| 2955 | 1 | 400 | 3355 | DHL | |
Leave a message 
Message List